News and Information
---
Treason trial hears of Police Station attack
October 18, 2006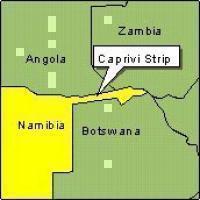 Treason trial hears of Police Station attack

WERNER MENGES

THE first witness claiming to have been present at the attack launched by alleged armed secessionists on the Katima Mulilo Police Station on August 2 1999 finished his testimony in the main Caprivi high treason trial last week.


Just like four previous State witnesses who passed through the witness stand before Judge Elton Hoff over the past three weeks, the State's 65th witness, Given Lufela Ndungati, could also not claim to have distinguished himself in the areas of military preparedness and battlefield bravery.

This emerged when Ndungati testified in the High Court on the grounds of the Windhoek Central Prison on Tuesday and Wednesday last week.

He told the court that he, too, had been part of the group of attackers that were supposed to carry out attacks at the Katima Mulilo town centre, the town's Namibian Broadcasting Corporation's office, and the Mpacha military base and Katounyana Special Field Force base outside the town but he also ran off soon after gunshots started going off.

He was also unarmed, and had received barely a day's worth of perfunctory military training before he was sent into battle, he claimed.

Ndungati told the court that Adams Muyumbano - another accused - fetched him on the night of July 31 1999, to go with him in the bush near Makanga village.

He never asked why.

When they arrived, they found other people and all their names were taken down.

Then David Mumbone, a high treason accused, demonstrated how to disassemble and fire an AK47 firearm, Ndungati said, adding that they were told to "steam" themselves with the smoke of the fires.

Later in cross-examination by defence counsel Greyson Nyoni, Ndungati agreed that this "steaming in smoke" was part of a supposed traditional medicinal treatment to make them "invincible".

Having spent a day in the bush near Makanga, which is some 70 kilometres southwest of Katima Mulilo, Mumbone then divided the people - they numbered about a hundred - into groups, Ndungati said.

He was in a group that was sent to the Katima Mulilo Police Station, where they "had to go and shoot Police officers," Ndungati said.

"I don't know the reason," he replied when Deputy Prosecutor-General Taswald July, who led his evidence, asked him why they were supposed to shoot Police officers.

There were nine people in his group, Ndungati said.

This included Aggrey Makendano, Osbert Likanyi - both names of two of the 119 accused persons on trial - and also one Jimmy Siswaniso, he continued.

Siswaniso had been called as the State's 62nd witness in the trial three weeks ago.

The State tried to have him declared as a hostile witness when he told the court that he had just spent the days around the August 2 1999 attacks at his home, doing nothing out of the ordinary.

According to Ndungati, though, Siswaniso's task on August 2 1999 was to help carry ammunition, probably for an RPG7 rocket launcher, for the group that set out to attack the Katima Mulilo Police Station.

The group was led by Makendano, Ndungati said.

Both Makendano and Likanyi were armed, he also claimed.

Once their group arrived at the Police station, a Police officer came out and told them to hide, he claimed.

He, Siswaniso and another member of their group hid amongst some shrubs, Ndungati continued.

By about four o'clock that morning they heard gunfire, not only in the Police station but also elsewhere in the town, he said.

At the Police station the shooting lasted for perhaps half an hour, he claimed.

One person, Constable Japhet Kamati, was killed in the attack on the Police station.

The members of their group who had gone into the Police station later came out, and Makendano told him and his companions that from that point onwards, they would have to take care of themselves, Ndungati said.

They were not told what had happened inside the Police station, he said.

Upon that, he, Siswaniso and their colleague skittered off and ran back to their home village, Masida, he said.

Having implicated Makendano and Likanyi in the Police station attack, Ndungati next dashed the hopes of the prosecution when he failed to identify the two men in court.

He also did not manage to point out Muyumbano.

He made other positive identifications of people in the dock, though, when he pointed out four of the 119 accused men - Herbert Mboozi Mutahane, Chris Ntaba, Francis Pangala and Frans Muhupulo - as having been among the people who he said were assembled at Makanga before the attacks.

The trial continues today.


Source: www.namibian.com.na
http://www.namibian.com.na/
Support Caprivi Freedom
Fill out the form below to become a member of this site and receive our regular newsletter.