News and Information
---
'Hostile witness' frustrates treason trial prosecution
September 26, 2006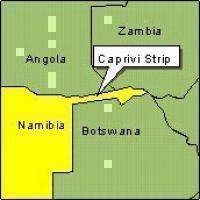 'Hostile witness' frustrates treason trial prosecution

WERNER MENGES

THE prosecution team in the main Caprivi high treason trial had to endure a frustration-filled day in the High Court in Windhoek yesterday, after a State witness threw a spanner into the works by repudiating a supposed witness statement the Police claim to have taken from him.


The 27-year-old witness, Siswaniso Jimmy Siswaniso, was the 62nd person called by the prosecution to testify in the trial of 119 men accused of having been involved in an alleged conspiracy to secede the Caprivi Region.

The hours that Siswaniso spent in the witness box before Judge Elton Hoff yesterday, before State advocate Niel Lakay finally abandoned his testimony, did not turn out to be a happy time for the prosecution team.

Before Siswaniso's testimony began, Lakay asked Judge Hoff to formally warn him that he could be required to give answers that could incriminate himself on all the charges faced by the 119 men.

This warning was an indication that Siswaniso, too, is alleged to have been involved in the alleged secessionist plot - but that, unlike the 119 men in the dock, he was being used as a State witness, rather than being prosecuted.

Siswaniso's testimony failed to deliver what the prosecution had expected, though, to the extent that Lakay eventually tried - but also failed - to persuade Judge Hoff to declare Siswaniso a hostile witness.

Had he been declared hostile, the State would have been allowed to cross-examine Siswaniso - something that it was not allowed to do since he was the State's own witness.

Siswaniso's name had previously cropped up during the trial, when the 60th State witness, Walters Sikoshi, told the court that Siswaniso was one of about 40 people he saw at a gathering point near the village of Makanga some 70 kilometres southwest of Katima Mulilo more than seven years ago.

Sikoshi claimed that this was shortly before armed and unarmed men set out from that gathering point on a mission to attack various Government-related targets at Katima Mulilo in the early morning hours of August 2 1999.

According to Siswaniso, though, he was at home at the village of Masida, just carrying out his daily chores, on July 31, August 1 and also August 2 1999.

Lakay then changed direction and started asking Siswaniso about what he had told the Police when he was questioned and eventually signed a witness statement.

Siswaniso said he had told the Police about the eight months he spent in Botswana, after leaving Namibia in November 1998, as a result of promises that he would be able to receive free further education.

During his time at Dukwe refugee camp, he found "a lot of friends", Siswaniso said.

He could however not remember their names or where they came from, he claimed.

His time at Dukwe was spent doing nothing except for attending daily morning roll calls, he also told the court.

After Siswaniso told the court he was brought to Windhoek in late April to testify in the trial, and that he had since consulted with prosecutors on four occasions, Lakay tried for a first time to ask the Judge to declare him a hostile witness.

In Judge Hoff's view, no basis had however been laid to show that he was contradicting earlier statements.

That brought Siswaniso to the witness statement that he said a Police officer by the name Chizabulo made him sign on March 15 2001.

Before that, Siswaniso said, the Policeman had slapped him several times while he was being questioned at Katima Mulilo.

On the day that he signed the statement, Chizabulo and another Police officer drove with him to a State forest in the region, where they assaulted him by hitting him with a whip.

He said he eventually signed the statement without knowing what was contained in it.

With these claims having been aired, Lakay tried to question Siswaniso on the contents of the witness statement, but objections from the defence team stopped this attempt.

As long as the State had not proven that the statement was made by Siswaniso, it could not use its contents to question Siswaniso, Judge Hoff ruled.

Siswaniso was stating that he had been forced to sign the statement, the Judge observed.

With that ruling, Lakay gave up and ended his questioning.

The trial continues today.


Source: www.namibian.com.na
http://www.namibian.com.na/
Support Caprivi Freedom
Fill out the form below to become a member of this site and receive our regular newsletter.