News and Information
---
Muyongo hits out at Govt
September 12, 2006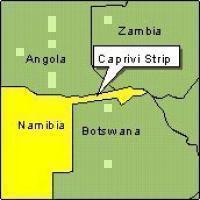 Muyongo hits out at Govt

BRIGITTE WEIDLICH

A DEFIANT Mishake Muyongo yesterday said nobody and nothing will make Namibians out of "Caprivi nationalists", not even force.

The Namibian Government's announcement that it considers the United Democratic Party (UDP) "illegal" has drawn strong criticism from Muyongo, who is President of the United Democratic Party (UDP).

"It is the reaction of frightened people who are undemocratic," Muyongo charged in a telephonic interview with The Namibian from Copenhagen, Denmark, yesterday.

Muyongo is regarded as the alleged mastermind behind an unsuccessful secessionist attempt in the Caprivi in August 1999.

Muyongo himself fled to Botswana with more than 2 000 loyalists in May 1998 and was granted asylum in Denmark, where he has lived since 1999.

"The people in the Namibian Government should go back to school and learn about the history of the Caprivi," a fired-up Muyongo charged yesterday.

"We are Caprivians and banning our party is nothing to us, they just shoot themselves in the foot.

Nobody will make Namibians out of us - not even by force," Muyongo added, emphasising that he was still UDP party president.

Asked about life in exile, 66-year-old Muyongo said it was "difficult, but I am fit and mentally very sharp".

The same applied to his cousin, Chief Boniface Bebi Mamili, who also lives in exile in Denmark, Muyongo told The Namibian.

On September 1 2006, Government said it considered the UDP "illegal".

The party's secessionist activities rendered it an illegal organisation, Deputy Minister for Information and Broadcasting, Raphael Dinyando announced the same day.

"Unless the UDP abandons, rejects or denounces its secessionist agenda", law enforcement agencies would act, "according to our laws relating to the prevention of illegal gatherings, particularly because the UDP has made clear its intentions aimed at undermining our constitutional order", he stated.

Government further warned that anyone who associated himself or herself with such an organisation would be violating the Constitution.

Government stopped short of banning the UDP, however.

This most drastic step taken against a political party since Independence in 1990 was however unconstitutional in itself, human rights activist Phil ya Nangoloh told The Namibian last week.

"The Namibian Constitution gives citizens the right to political activity, but it must be peaceful," Ya Nangoloh said.

"This means that in a democratic country, which Namibia is, people should be allowed to discuss secession, despite the fact that Namibia is a unitary state."

A few weeks before the Government said it considered the UDP as illegal, Crispin Matongo, formerly in charge of the Prisons Service, reportedly said he intended to reactivate the UDP in the Caprivi Region.

A reliable source told The Namibian that the international network of UDP members and sympathisers appeared to be quite active, with phone calls and e-mails between its exiled members in Botswana to Copenhagen and others who live in the USA and Canada.

The secessionists also run an Internet site containing strong statements against the "colonial Namibian regime" where Caprivians "live like slaves", as well as derogatory remarks about former President Sam Nujoma.

The website further displays names and photos of the UDP "executive committee in exile", among them Francis Sizimbo.

He is "acting secretary for foreign affairs, responsible for all foreign affairs correspondence and refers such matters to the office of the President and other relevant departments for prompt action", the website describes him.

Another executive member is John Nabutunga Mabuku, claimed to be the "acting executive head for the UDP executive Committee currently in Botswana".

Mabuku was a former Governor of the Caprivi Region and fled to Botswana with Muyongo.

According to the UDP website, Mabuku "is responsible for co-ordination of activities of the UDP executive committee members and (he) reports to the President.

He also receives instructions from the President directed to the entire Executive Committee of UDP now in Botswana."

As far as The Namibian could establish, Mabuku is living in the Kagisong refugee camp in Botswana, waiting to be granted refugee status by a third country.


Source: www.namibian.com.na
http://www.namibian.com.na/
Support Caprivi Freedom
Fill out the form below to become a member of this site and receive our regular newsletter.