News and Information
---
Bail application by ex-MP Mwilima continues today
August 15, 2006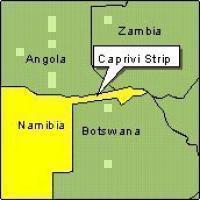 Bail application by ex-MP Mwilima continues today

WERNER MENGES

FORMER National Assembly member Geoffrey Mwilima and one of his co-accused in the main Caprivi high treason trial, former Namibian Broadcasting Corporation producer Barnard Mucheka, are set to return to the Windhoek Central Prison premises of the High Court today to continue with their fourth attempt to persuade a court to release them on bail.

The two men launched another bail application - their fourth since their arrests seven years ago - before Judge Elton Hoff three weeks ago.

The bail hearing was adjourned to today after both Mwilima and Mucheka testified in support of their application.

The prosecution, which is opposing the application, is expected to present evidence in a bid to back up its objections against the two being released.

In their testimony, Mwilima (51) and Mucheka (57) both complained bitterly of the way they had been treated in prison over the past seven years.

With Mwilima suffering from diabetes, high blood pressure and kidney dysfunction, and Mucheka a cardiac patient who has high blood pressure and has recently further been diagnosed as suffering from asthma, both complained that the prison authorities had failed to ensure that they received the proper prescribed treatment at all times and met their doctors' appointments as scheduled.

That state of affairs, they claimed, was in itself already a violation of an order that Judge Hoff made in late 2002, when he dismissed their last bail application and at the same time directed the Commissioner of Prisons to ensure that Mwilima and Mucheka received the medical attention they needed, that they are taken to attend all scheduled appointments with their doctors, and that they receive whatever special diets have been prescribed for them.

In the seven years that he had been in custody, the prison authorities had never even thought of making arrangements so that he could receive the proper diet he had to follow as a diabetic, Mwilima claimed at one point during his testimony in this latest bail hearing.

Both he and Mucheka also told the court that they were not guilty of the 278 charges on which they and another 117 co-accused are being prosecuted.

"I don't remember sitting with anybody planning to secede Caprivi from the rest of Namibia," Mwilima stated during his testimony.

He said he saw no reason why he would decide to leave Namibia if he was released on bail.

"I believe I'm a Namibian.

I love Namibia and I want to die and be buried just next to my father, where my father is buried and where my grandfather is buried," he said.

When questioned on his views about the issue at the root of the Caprivi high treason trial - the idea that the Caprivi Region should be an independent country, separate from Namibia - Mwilima at first replied: "My views are that Caprivi (...) from 1890 has remained a part of Namibia, South West Africa.

And up to date it still stands so."

Judge Hoff himself further tested Mwilima's views, asking him what he thought about suggestions that Caprivi should be an independent state on its own.

"I support the idea of Caprivi being part of Namibia and it should remain part of Namibia.

Those are my views," Mwilima answered.

He does not support the idea of establishing an independent state in the region, and he disassociates himself from exiled alleged secessionist leader Mishake Muyongo - a cousin of his - on that score, Mwilima also said.

Mucheka, who said he had been a Swapo member for decades, appeared to be somewhat more ambivalent on the Caprivi Region's status.

He did not share the view that the region should be an independent state, Mucheka said.

At the same time, if the people of the region wanted to achieve their independence, they could go ahead and try to do that as far as he was concerned, but he doubted that they would be able to succeed, he added.

"I'm saying, let them go ahead, that is their ambition, not my ambition," he further stated.

If the region does achieve independence, "(a)s a civil servant I'm prepared to serve in any incoming government", Mucheka also said.

"I was very happy when Namibia got independence," he continued.

"And if that independence of Caprivi is a peaceful independence then I will be happy.

(...) What's wrong with that?" His stance was, however, that talk of achieving independence for the region was premature, Mucheka added.

In the treason trial, an allegation that Mucheka was supposed to help announce a separatist take-over of the Caprivi Region over the airwaves forms part of the State's case against him.

Anybody making such a claim, however, would be telling lies, Mucheka testified.

Mwilima was similarly dismissive of claims about his alleged role in helping to organise a secessionist movement in the region.

It had become clear to him that people who gave such testimony had either been coached or had their supposed witness statements manufactured by the Police, or had been bribed, the ex-MP claimed.


Source: www.namibian.com.na
http://www.namibian.com.na/
Support Caprivi Freedom
Fill out the form below to become a member of this site and receive our regular newsletter.