News and Information
---
12th treason suspect dies in custody
January 26, 2006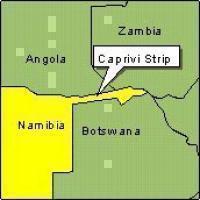 * WERNER MENGES

DEATH has released one of the 120 Caprivi high treason suspects on trial in the High Court in Windhoek, Flannan Ntelamo, from more than six years of Police custody.

Ntelamo died in the Windhoek Central Hospital on Tuesday evening.

He was 35 years old.

Judge Elton Hoff, who is presiding over the treason trial in which Ntelamo and 119 co-accused are being prosecuted over their alleged involvement in a plot to use armed means to secede the Caprivi Region from Namibia some seven years ago, was informed of Ntelamo's death when proceedings in the trial resumed before him yesterday morning.

Ntelamo is the 12th Caprivi treason suspect to have died while in Police custody, awaiting the finalisation of the treason trial.

The last death took place in November 2003.

Ntelamo had been seriously ill for months.

He spent the last months of last year in the Windhoek Central Hospital, where he died on Tuesday.

Ntelamo had been released from the hospital near the end of last year, and was kept in the sickbay of the Windhoek Central Prison, before he was readmitted to the hospital for what proved to be the last time.

Ntelamo died of an undisclosed illness.

Deputy Commissioner Abraham Maasdorp, the head of the Police team investigating the high treason case, said yesterday that an autopsy would be done on Ntelamo this week to determine the cause of death.

Maasdorp said the Police would assist Ntelamo's family, if needed, to transport his body back to the Caprivi Region for burial.

His father, former school principal Gabriel Ntelamo, who is also charged in the trial, will however not be allowed to attend his son's funeral.

"That has never been allowed, and it will not be allowed," Maasdorp said.

While his son was still in hospital late last year, Ntelamo Snr was forced to ask Judge Hoff's assistance to get the Police and prison authorities to allow him to visit his son to establish what his medical condition was.

When he relayed that request to the Judge on December 8 last year, Ntelamo Snr's defence lawyer, Greyson Nyoni, informed the Judge that Flannan Ntelamo had stopped eating and had lost his memory, and that while he was being denied contact with his son, Ntelamo Snr had no clue what was happening to his child.

Ntelamo Snr has since been given access to his son.

Four members of the Ntelamo family had been charged in the high treason trial.

Two of Ntelamo Snr's brothers are also in the dock before Judge Hoff.

Both of them - Leonard Ntelamo and Stephen Ntelamo - were excused from trial proceedings yesterday to be with Ntelamo Snr, who was not present at court yesterday.

Flannan Ntelamo had only one chance to state his case in court since legal proceedings in connection with the high treason case started in August 1999.

That chance came on September 20 1999, when Ntelamo and some of his co-accused brought a bail application in the Grootfontein Magistrate's Court.

Ntelamo told the court then that he was unmarried and was the father of one daughter.

He had been employed by the Open Learning Group before he was arrested on the evening of August 2 1999 - the day that alleged members of a separatist movement calling itself the Caprivi Liberation Army staged surprise armed attacks on Government-related targets at Katima Mulilo.

Gabriel Ntelamo, who was the headmaster of a primary school in the Caprivi Region, was arrested three days after his son.

During their bail application at Grootfontein, Flannan Ntelamo was told that the State had evidence that material bearing the logo of the Caprivi Liberation Army and its political parent organisation, the formerly DTA-affiliated United Democratic Party, had been found at the house of his uncle Leonard Ntelamo, where he was arrested.

Ntelamo denied having known about that alleged material.

He also denied an accusation that he had used his father's vehicle to go around collecting money for the CLA, or that he had attended meetings at which planned CLA activities were organised.

He was not a member of either that organisation or the UDP, Ntelamo told the court then.

Leonard Ntelamo, a former teacher and Namibian Broadcasting Corporation employee at Katima Mulilo, likewise denied having been involved in treasonous activities in the Caprivi Region.

"I'm a law-abiding citizen of this country," he stated.

"I was born out of a religious family which doesn't believe politics will bring peace to this country or this continent," he declared.
Source: www.namibian.com.na
http://www.namibian.com.na/
Support Caprivi Freedom
Fill out the form below to become a member of this site and receive our regular newsletter.