News and Information
---
Main Caprivi treason trial resumes
January 18, 2006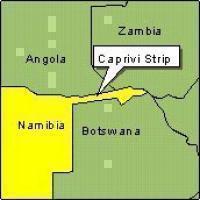 * WERNER MENGES

THE main Caprivi high treason trial got back into gear after an almost six-week adjournment yesterday.

The trial, which started in the High Court at Grootfontein in August 2004 and has since been afflicted by delays and inevitable postponements, clocked up its 80th day of court proceedings yesterday.

The trial restarted in the High Court building on the grounds of the Windhoek Central Prison, where it has been held since the beginning of November last year.

The 19th State witness to have testified so far during the trial, Bernard Baleke Kanzeka, returned to the witness stand to continue with the testimony that he had started giving at the end of November.

Kanzeka's evidence was interrupted when a defence objection against the nature of contacts and consultations between the prosecution and State witnesses prompted Judge Hoff to give a ruling that part of the trial proceedings so far had been irregular.

Judge Hoff ruled on December 8 that, while no identification parades had been held at which witnesses were required to identify some of the 120 accused persons who featured in their evidence, the prosecution had been showing albums with photos of the accused to witnesses before asking the witnesses to point out the accused in court.

According to Judge Hoff, this method of preparing State witnesses for testifying had compromised the fairness of the trial.

Judge Hoff's ruling, which presented a significant setback to the State's case, was the last proceeding in the trial before the court adjourned until yesterday.

With his return to the witness box, Kanzeka picked up his testimony where he left off: in an era dating back more than seven years, when, he claimed, he attended meetings where suggestions were propagated that the Caprivi Region should secede from Namibia, and where people were asked to make contributions to help realise that goal.

The first meeting that he attended was at the DTA office at Katima Mulilo in November 1998, Kanzeka said.

Geoffrey Mwilima addressed the gathering, which according to Kanzeka was a "secret" meeting, and said that the regions would be "cut" from Namibia through fighting with the use of firearms, Kanzeka told the court.

Initially Mwilima's message was met with indications of disagreement and scepticism from his audience, but after he had told them that people would be getting jobs and would be earning a lot of money in the Caprivi Region once it had been "liberated", the audience seemed to be happy with what they were hearing from him, Kanzeka said.

He is set to continue with his testimony today.
Source: www.namibian.com.na
http://www.namibian.com.na/
Support Caprivi Freedom
Fill out the form below to become a member of this site and receive our regular newsletter.