News and Information
---
Torture claims haunt Caprivi treason trial
January 5, 2006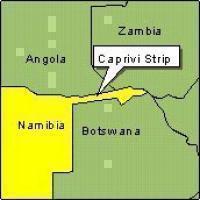 * Christof Maletsky

THE National Society for Human Rights (NSHR) has urged the High Court to investigate claims of torture and other cruel treatment during interrogations before the start of the main Caprivi treason trial.

NSHR executive director Phil ya Nangoloh said yesterday that they had interviewed some of the treason trial suspects before Christmas and they had all complained that magistrates, judges, prosecutors and defence lawyers had failed them by not ensuring that their allegations of torture and ill treatment against several law-enforcement officials were promptly and effectively investigated.

The suspects wanted the alleged torturers brought to justice and punished and their victims effectively compensated, ya Nangolo said.

In a statement released yesterday, the NSHR urged Chief Justice Peter Shivute to promptly order a separate trial in the marathon Caprivi treason trial to ensure that no evidence before the High Court has been tainted through coercive means, including torture and other ill treatment.

"Such action would greatly enhance the image of the Namibian judiciary in the eyes of the international community," the rights group said.

It proposed that the trial take place before the resumption of the main treason trial in the High Court on January 17.

"Despite the compelling evidence that torture and ill treatment have been extensively used against both suspects and certain witnesses, magistrates, judges, prosecutors and defence lawyers have, in our opinion, dismally failed in their obligation to ensure that allegations of torture and ill treatment of suspects during pre-trial interrogations and or custody have been promptly and effectively investigated", said ya Nangoloh.

He said magistrates, judges, prosecutors and defence lawyers were under an obligation to ensure that allegations of torture or ill treatment of suspects and witnesses were immediately, effectively and impartially investigated.

They needed to ensure that all evidence obtained through torture or ill treatment was rendered impermissible, the perpetrators prosecuted and punished and victims justly compensated.

"Hence, we firmly believe that as our supreme judicial officer, Chief Justice Shivute, has, under both national and international law, a compelling obligation to order or cause to be ordered a separate trial to ensure that the doctrines of the absolute prohibition of torture and the exclusionary rule are upheld and the rule of law complied with," ya Nangoloh said.

He said allowing the treason trial to go ahead without first ascertaining that the evidence of witnesses and suspects had not been tainted through torture or other atrocious treatment constituted "an impermissible and momentous travesty of justice which should not stand".

The Office of the Prosecutor General earlier decided that "the more serious charges" of high treason must first be dealt with before the torture charges levelled against law enforcement officials were handled.

Virtually all the 132 Caprivi treason suspects have on several occasions demonstrated that they have been subjected to torture or other cruel treatment during interrogation and even thereafter.

"It is our firm belief that the high treason trial is procedurally flawed and very urgent corrective measures must be instituted before it is too late.

To put the torture investigation on the back burner is, in our opinion, as preposterous as putting the cart before the horses," said NSHR spokesperson Dorkas Phillemon.
Source: www.namibian.com.na
http://www.namibian.com.na/
Support Caprivi Freedom
Fill out the form below to become a member of this site and receive our regular newsletter.