News and Information
---
Museveni's rival denies treason
December 19, 2005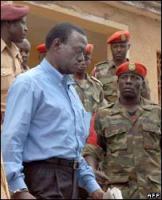 Ugandan opposition leader Kizza Besigye leaves a military court
Kizza Besigye is seen as the first credible challenger to the president
Ugandan opposition leader Kizza Besigye has pleaded not guilty to charges of treason and rape at the High Court.

The trials were then postponed until early January after Dr Besigye's lawyers complained they had not been able to consult him in private.

He is also due to face a separate court-martial, where he is accused of terrorism and weapons offences.

His lawyers say the charges are designed to exclude him from the elections set for 23 February 2006.

Dr Besigye was arrested in November, along with 22 others, soon after returning from four years in exile.


BESIGYE TIMELINE
Due in military court this week
Constitutional Court to rule this week
2 Jan: Goes on trial for rape in High Court
6 Jan: Goes on trial for treason in High Court
23 February: Presidential elections

Museveni's halo slips
He is seen as the first credible challenger to President Yoweri Museveni, who has been in power for 19 years. These will be the first multi-party elections since Mr Museveni took power.

The BBC's Will Ross in Kampala says the delay means it is no longer certain that the trials for rape and treason will be over before the elections.

Meanwhile, Sweden has become the latest donor country to withhold some aid - $8m - because of concerns about Uganda's political situation.

Bizarre

The army has meanwhile suspended its court-martial of Dr Besigye until the Constitutional Court rules on its legality "as a gesture of goodwill", said spokesman Major Felix Kulayigye.

Dr Besigye's lawyers argue that it is unfair for him to face two trials on similar charges of having links to rebel groups. They also say that, as a civilian, he should not face military justice.

Ugandan President Yoweri Museveni
Kizza Besigye was once a political ally of President Museveni
"We are living in a country which has no rule of law," Dr Besigye told reporters before being taken to the court on Monday.

Despite being held in prison for more than a month, Dr Besigye was able to submit his nomination papers for next year's elections.

If convicted, Dr Besigye would be barred from the poll.

But if the trials have not finished, he may be leading the campaign from his prison cell and the dock, raising the bizarre possibility of him being elected as leader while behind bars.

He denies having links to rebel groups but refused to enter a plea in the military court.

The authorities say they have enough evidence to bring the charges and deny they are politically motivated.
Source: www.bbc.com
http://news.bbc.co.uk/2/hi/africa/4541286.stm
Support Caprivi Freedom
Fill out the form below to become a member of this site and receive our regular newsletter.