News and Information
---
Kenya's political crisis deepens
December 8, 2005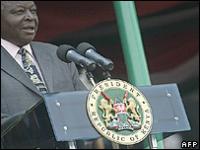 Kenyan President Mwai Kibaki
The referendum result was seen as a protest vote against the president
Kenyan President Mwai Kibaki's newly appointed government is unravelling, plunging his leadership deep in crisis.

Three prospective ministers and more than a dozen deputies have refused to accept posts, including two key allies.

Mr Kibaki dismissed his entire team two weeks ago after he lost a referendum on a new constitution - a vote seen as a protest against him.

Those snubbing Mr Kibaki say he is failing to consult coalition partners and ignoring the people's wishes.

The new cabinet he announced on Wednesday evening was said to be made up mostly of old friends and colleagues.

Mr Kibaki rejected all the leading politicians who stood against him and backed the successful "no" campaign in the referendum.

Also missing is former key presidential aide Chris Murungaru, already demoted in the wake of corruption allegations.

Unravelling

But the BBC's Adam Mynott in Nairobi says that no sooner had Mr Kibaki named his new government, than it started to fray around the edges.


The president should have consulted all parties in the coalition before choosing his ministers
Charity Ngilu

Send us your comments

An hour after the president read out the long list of ministers in an address on national television, almost a dozen politicians named as assistant ministers announced that they were refusing to accept their posts.

They were soon followed by Orwa Ojode, who turned down the post of minister for environment and natural resources.

Later, Musikari Kombo turned down his reappointment as local government minister - despite having campaigned with Mr Kibaki for the referendum.

Mr Kombo, the leader of Ford-Kenya, which was one of four parties in the Kenyan coalition that won elections in 2002, announced that his party would not take part in the new government.

Then leading cabinet member Charity Ngilu turned down the health ministry, saying there had been a lack of consultation.

"The president should have consulted all parties in the coalition before choosing his ministers," she told reporters.

In total 16 minister of deputies have rejected their appointments.

Speaking on Kenyan TV station KTN, Mr Ojode complained that candidates from his western Kenya region, Ndiwa, had been denied all of the best departments.

"You find that in my community, we have been sidelined completely apart from this departmental ministry which has been offered to me," he said.

"What happened to the Ministry of Planning? What happened to Ministry of Roads? Why do we have to get the departmental ministry. What for? For the community? How will I help the community? How will I assist my constituents?"

Soita Shitanda, one of the politicians who turned down a junior ministerial post, said Mr Kibaki had failed to consult his party before offering him the job.

General election calls

Our correspondent says Kenya is entering very uncertain political times, with opposition parties saying Mr Kibaki should now call an early general election.

The draft constitution was rejected by about 57% of voters in the country's first referendum on 21 November.

The main bone of contention in that vote centred on the role of the president himself.

His opponents, including several members of the old cabinet, had wanted the new draft constitution to include a new powerful prime ministerial post, but this was opposed by supporters of Mr Kibaki.

Elections are due in 2007, but speculation is growing that these could be brought forward if Mr Kibaki fails to start negotiations quickly to shore up the support of his former allies.
Source: www.bbc.com
http://news.bbc.co.uk/2/hi/africa/4509162.stm
Support Caprivi Freedom
Fill out the form below to become a member of this site and receive our regular newsletter.