News and Information
---
Treason trial prosecutors rubbish foul play claims
December 5, 2005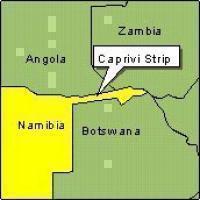 * WERNER MENGES

CLAIMS that the prosecution in the main Caprivi high treason trial has been coaching State witnesses and consulting with witnesses who were already under cross-examination are not true, two members of the prosecution team declared under oath in the High Court in Windhoek on Friday.

"I think I've done everything to ensure that this trial is done fairly to the accused and to the State witnesses," Deputy Prosecutor General Taswald July told Judge Elton Hoff from the witness stand on Friday.

July gave testimony in a bid to fend off a defence attempt to have the prosecution's conduct in the trial painted as unprofessional and irregular and to have a special entry made on the trial record that the proceedings so far have been irregular because of the prosecution's conduct.

The response from prosecutor Niel Lakay, a colleague of July's on the prosecution team, was similarly emphatic on one of the defence's points of complaint.

"To consult with a witness who is under cross-examination is very unethical, and that is something that I've never done," Lakay told Judge Hoff when he testified after July.

The two prosecutors gave sworn testimony to the court after two members of the team of nine defence lawyers, Jonathan Samukange and Jorge Neves, testified on Thursday that they had witnessed what they said was consultation between the State's latest witness in the trial, Bernard Baleke Kanzeka, and the two prosecutors during an adjournment in trial proceedings on Wednesday.

Neves also claimed to have seen July in conversation with a previous prosecution witness, Shailock Sitali Sinfwa, in the prosecution's office while Sinfwa was already under cross-examination from the defence.

These incidents, the defence indicated when it asked Judge Hoff on Thursday to have a special entry made on the trial record, were evidence that the prosecution was employing foul tactics by coaching witnesses, suggesting answers to them, and consulting with them while their testimony was being tested under cross-questioning.

With both July and Lakay strongly denying any wrongdoing on their part on Friday - and also disputing that Neves had even been in their office during the adjournment on Wednesday that he had testified about - it appeared that the main issue on which they and the defence continued to disagree was whether a prosecutor was allowed to consult with a State witness once the witness had started giving evidence.

Both July and Lakay readily agreed that it was not permitted to consult with a witness who was under cross-examination.

On that score they and the defence were in agreement.

Said July during his testimony: "As far as the prosecution is concerned, there is nothing in law that prohibits the State from consulting with a witness while he is still giving his evidence in chief."

Whether that is the position in Namibian law or not, is expected to be the main issue when defence lawyer Patrick Kauta and Deputy Prosecutor General Danie Small place their arguments on the defence's application before Judge Hoff today.

So far, Kauta has referred the two prosecutors who testified only to rules from countries other than Namibia.

Referring to a set of rules of ethics and professional conduct from South Africa's Law Society, he pointed out that those rules state that it is "generally undesirable" for a lawyer to interview a witness after the witness had been sworn in to start giving testimony, and that it was "improper" for a lawyer to interview a witness who was under cross-examination.

July also stuck to his stand that there was nothing in Namibian law that prohibits the prosecution from consulting with a witness still giving his evidence-in-chief.
Source: www.namibian.com.na
http://www.namibian.com.na/
Support Caprivi Freedom
Fill out the form below to become a member of this site and receive our regular newsletter.