News and Information
---
US holds funeral for rights icon
November 2, 2005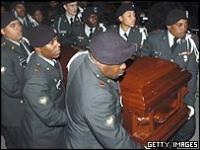 A military honour guard accompanies Rosa Parks' coffin to her funeral in Detroit
Gospel singers greeted mourners at the church
Thousands of people have gathered to pay their respects at the funeral of US civil rights icon Rosa Parks, who died last week aged 92.

Ex-President Bill Clinton and singer Aretha Franklin are at the ceremony in Detroit, her home since 1957.

Mrs Parks' refusal to give up her bus seat to a white man in Alabama in 1955 sparked mass protests that ultimately ended racial segregation in the US.

Earlier this week, thousands filed past her coffin in Washington and Alabama.

The Rev Jesse Jackson will deliver the eulogy at the Greater Grace Temple Church before Mrs Parks is buried in a Detroit cemetery.

Flags will fly at half mast and the first seat on buses in Montgomery, Alabama, and in Detroit will be left empty in her memory.

First woman

The BBC's Daniela Relph in Detroit says the funeral will be an extraordinary event, remembering a woman whose dignity and courage changed the US forever.

Mrs Parks was forced to move to Detroit because of threats and harassment in Alabama following her act of defiance.

Rosa Parks after her arrest in 1955
Parks was arrested and charged for violating segregation laws

Even in death she broke new ground, becoming the first woman to lie in the Rotunda on Capitol Hill in Washington, an honour usually reserved for presidents.

After being flown from Washington, Mrs Parks' mahogany casket was carried into the rotunda of Detroit's Charles H Wright Museum of African-American History, where long lines of people queued to pay their respects.

On Sunday, hundreds of mourners, including Secretary of State Condoleezza Rice, attended a memorial service in Montgomery, Alabama.

A three-hour service in Washington the next day brought together Defence Secretary Donald Rumsfeld, head of Homeland Security Michael Chertoff, prominent Democrats and talk show host Oprah Winfrey.

Mrs Parks' refusal to give up her seat to a white man on a bus in Montgomery prompted a mass black boycott of buses.

Her actions inspired the movement which culminated in the 1964 Civil Rights Act and an end to segregation.
Source: www.bbc.com
http://news.bbc.co.uk/2/hi/americas/4398860.stm
Support Caprivi Freedom
Fill out the form below to become a member of this site and receive our regular newsletter.