News and Information
---
UN backs talks on Kosovo's future
October 24, 2005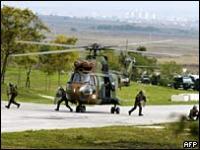 Nato-led peacekeepers in Kosovo (KFOR) conduct an exercise near the Pristina airport
Nato forces are likely to still guarantee Kosovo's security
The United Nations Security Council has backed a proposal to open talks on the future of Kosovo.

A council statement adopted unanimously offered full support for what it called a political process that should lead to a multi-ethnic and democratic Kosovo.

Kosovo's ethnic Albanian majority wants independence, but Serbia wants to maintain sovereignty over the province.

Kosovo has been administered by the UN since Nato-led troops expelled Serb forces in 1999 to end the war there.

Kai Eide, the UN special envoy to Kosovo, told the Security Council delaying talks would stall progress on creating democratic institutions, protecting minorities and ensuring the rule of law.

Shuttle diplomacy

UN Secretary General Kofi Annan has said the talks should begin despite numerous shortcomings.

Serbian Prime Minister Vojislav Kostunica told the council the future of Europe would depend on a just and viable solution to the issue.

He wants Kosovo to remain part of Serbia despite obtaining wide autonomy.

The head of the UN administration in Kosovo, Soren Jessen-Petersen, told the BBC the current situation was unsustainable.

Mr Jessen-Petersen told the BBC the positions of the Albanians and the Serbs are "diametrically opposed", and that asking the two sides to sit down and solve it would "almost be an exercise in futility".

But he was confident that with the help of a UN special envoy, who will shuttle between Pristina and Belgrade and other capitals in the region, an agreement would be reached within a year.

He went on to say that negotiations would be based on a set of principles that have already been agreed.

These include:

# no partition of Kosovo
# no return of the situation before March 1999
# no union of Kosovo with neighbouring states
# protection of minorities.

In 1999, Nato launched a 78-day air campaign against Serbia to stop a violent crackdown against ethnic Albanian separatist rebels.

Serbian forces were driven out, and the UN took over the administration of Kosovo, which formally remained a province of Serbia and Montenegro.
Source: www.bbc.com
http://news.bbc.co.uk/2/hi/europe/4371940.stm
Support Caprivi Freedom
Fill out the form below to become a member of this site and receive our regular newsletter.