News and Information
---
Diplomacy or campaign trail for Rice?
October 24, 2005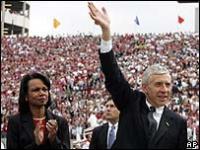 By Jonathan Beale
BBC News, Birmingham, Alabama

Rice and Straw have developed close ties
It took a small girl at Condoleezza Rice's old elementary school in Birmingham, Alabama, to ask the question most of us reporters had been thinking.

She wanted to know whether the US Secretary of State thought the US would ever have a woman president.

There was no real doubt as to what she was thinking: could she be looking at a future contender for the White House?

Ms Rice replied yes, she thought it would happen, before adding - her now well rehearsed denial - that she herself was not interested in running for office.

Maybe, but everything about this trip to her home state of Alabama - Republican to the core - had the feel of a campaign tour.

That speculation followed Ms Rice everywhere she went.

There were the middle aged white women who queued to hear her give a speech at the University of Alabama.

They were already wearing badges that advertised "Condi for President".

Or the football fans who awaited her arrival at the Tuscaloosa stadium to see Alabama take on Tennessee.

Nearly all of the fans I spoke to thought this was all about Ms Rice's political future.

Both she and her staff clearly feel uncomfortable discussing this. Not least because it is hardly helpful to President George Bush, whose own approval ratings have taken a dive.

Loyal ally

Those around her insisted this was all about "serious diplomacy".

All said, there were good reasons for making this visit with the UK Foreign Secretary Jack Straw.

For a start, it gave her an opportunity to strengthen her close working relationship with a loyal ally.

Rice (left) and Straw at the Bryant-Denny Stadium in Tuscaloosa, Alabama
Straw's identity was a mystery to most in the football stadium
The tour coincided with the publication of the UN investigation into the murder of former Lebanese Prime Minister Rafiq Harriri, and the two had an opportunity to consider the next steps concerning Syria.

This was also a chance for the Bush administration's highest profile African-American to reach out to the black community to try to heal the divide seen in the aftermath of Hurricane Katrina.

Both she and Mr Straw also delivered strong speeches in support of democracy - making the comparison between Birmingham and Baghdad with the point that freedom denied is not the end of the story.

Birmingham - or "Bombingham" as it used to be known - showed there will be a time when people rise up and enjoy their freedom.

The most emotional part of this autobiographical journey for the US secretary of state was a dedication ceremony remembering four girls who were murdered at the 16th Street Baptist Church in 1963.

One of those girls was a childhood friend of Ms Rice.

There was a positive message - that out of the strife and suffering of the civil rights movement the black community in Birmingham had triumphed.

Birmingham now has a black chief of police. And sitting there with them was an African-American secretary of state - as one of the speakers put it: "the most powerful woman on the globe".

'Jack who?'

It was always going to be harder to work out why Mr Straw had come along. Many of those he met clearly did not have much of an idea either.

He was introduced on two separate occasions as both "Jack Shaw" and "Jack Snow".


If Ms Rice needed a reason for going back to her home state to test the water for a future presidential race - then Mr Straw certainly provided her with some cover

Nor did the huge crowd at the American football game have much of an idea as to the identity of the man standing next to the secretary of state.

But even if the locals were a bit confused about his presence - the foreign secretary has shown a real interest in the US civil rights movement and believes that Britain can learn lessons.

Not least in the example of Ms Rice's rise to power. He spoke movingly at the commemoration service for the four girls.

He has also developed a strong rapport with his American counterpart - they genuinely appear to enjoy each other's company.

And if Ms Rice needed a reason for going back to her home state to test the water for a future presidential race - then Mr Straw certainly provided her with some cover.

This visit was genuinely interesting for other reasons. But it will only fuel the fires of speculation about her long term political ambitions. There are still huge obstacles in the way - she is a woman, single and black for a start.

But she has certainly shown that she could be a formidable opponent on the campaign trail.
Source: www.bbc.com
http://news.bbc.co.uk/2/hi/americas/4369986.stm
Support Caprivi Freedom
Fill out the form below to become a member of this site and receive our regular newsletter.