News and Information
---
South Sudan gets new government
October 24, 2005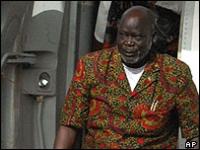 By Jonah Fisher
BBC News, Khartoum


John Garang
Garang helped forge a peace deal before his death
A new government has been announced in southern Sudan.

The naming of the new administration is the next step in the country's complex north-south peace agreement.

Under the terms of the deal, the south has been given a large degree of autonomy and the chance to vote for full independence in six years' time.

The conflict between Sudan's Muslim north and mainly Christian south was, until it officially ended in January, Africa's longest running civil war.

Devolved power

Southern Sudan's new government includes most of the leading figures from the former southern rebels, the SPLM.

Their decision to concentrate on the south, rather than the national government in Khartoum, is an indication that they regard separation from the north in six years' time as likely.

Under the terms of the comprehensive peace agreement, the former rebels dominate the new administration.

Seventeen ministers and seven presidential advisors have been appointed with decisions still pending on two other ministries.

Rebecca Garang, whose husband John led the rebels before dying in a helicopter crash in July, has become minister for transport and roads.

With less than 10km of paved road in the south, it's an area earmarked for massive investment.

The southern Sudanese are now responsible for their own internal affairs.

Control over defence, foreign policy and energy remains with the national government in Khartoum.
Source: www.bbc.com
http://news.bbc.co.uk/2/hi/africa/4370100.stm
Support Caprivi Freedom
Fill out the form below to become a member of this site and receive our regular newsletter.