News and Information
---
Milton Obote's widow, Miria
October 21, 2005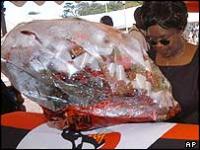 Miria Obote agreed with calls for national reconciliation
Thousands of Ugandans have turned out to mourn former President Milton Obote at his state funeral in Kampala.

He led Uganda to independence from Britain in 1962 and was twice overthrown by military coups.

A police band played and mourners stood as the flag-draped coffin was carried into grounds for the open-air service.

He died last week aged 80, having spent the last 20 years in exile in Zambia and many Ugandans were surprised when he was granted a state funeral.


My husband [should] have been given more respect as a former elected head of state
Miria Obote

In pictures: Milton Obote
But the BBC's Will Ross at the funeral says the day has not been declared a public holiday, a source of controversy.

Mr Obote's family and party supporters along with Prime Minister Apolo Nsimbambi and other ministers were in attendance.

But President Yoweri Museveni, who laid a wreath on the coffin in parliament on Thursday, was not there.

When Mr Nsimbambi told the crowd that the Ugandan leader was attending to matters of national importance, many jeered.

Mixed legacy

"My husband [should] have been given more respect as a former elected head of state. Instead, my husband has had to die far from home," Miria Obote said at the service in Kololo Airstrip, AP reports.

She said she agreed with Mr Museveni's desire for reconciliation.

Crowd at the ceremony
Thousands turned out for the ceremony
"We reviewed the turbulent history of Uganda and we saw the need for reconciliation - we should not squander an opportunity," the president said on Thursday during a parliamentary session to honour the exiled leader.

Attempts at reconciliation between the two men failed during Mr Obote's exile.

Mr Museveni warned him against returning to the country, saying he would face prosecution for the deaths of thousands of people during the early 1980s. Mr Obote is the fourth Ugandan leader to die in exile and Mr Museveni said it was time to make other concessions.

Some argue the reconciliation has come too late in a country that since its independence has never witnessed a peaceful transfer of power from one leader to another. Obote himself has a mixed legacy.

"He was a great man. The nation will miss him. We have gathered to see the last remains of a great man," said student Dick Kizito at the airport after the body had arrived on Tuesday.

But 62-year-old Betty Nomushoke was not in mourning.

"He killed so many people... I have no tears to shed ," she told AP.

After the funeral, the coffin will tour several towns across Uganda before he is to be buried in his ancestral home in the north on Monday.
Source: www.bbc.com
http://news.bbc.co.uk/2/hi/africa/4363226.stm
Support Caprivi Freedom
Fill out the form below to become a member of this site and receive our regular newsletter.