News and Information
---
Kosovo set for 'breakaway' talks
October 7, 2005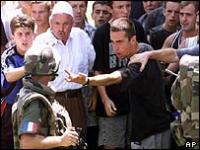 Ethnic Albanian demonstrator confronts a French soldier in Mitrovica, Aug 1999
Kosovo's ethnically divided city of Mitrovica is still a flashpoint
Talks on whether Kosovo should remain part of Serbia or be given independence should start soon, UN Secretary General Kofi Annan has said.

He made the recommendation to the UN Security Council after a report on human rights in the province, run by the UN since a war there ended in 1999.

Mr Annan's envoy Kai Eide drew up the report after a four-month mission.

Kosovo's ethnic Albanian-dominated authorities seek independence but Serbia wants to keep the province.

"The question of autonomy and independence has been raised, and we have to talk to Belgrade and Pristina," Mr Annan told reporters in the Swiss capital, Bern.

"We will start soon."

He said the talks should be launched despite several shortcomings in Kosovo's standards of democracy, in the work of its legal institutions and in the protection of its Serb minority.


The time has come to move to the next phase of the political process
Kofi Annan
UN General Secretary

Drive for resolution

Serbian Prime Minister Vojislav Kostunica expressed his surprise at the latest developments.

In a statement released after talks with UN envoy to Kosovo Soren Jessen-Petersen, Mr Kostunica said that "the precondition for talks on Kosovo future is full implementation" of the UN-set standards.

For his part, Mr Jessen-Petersen said that the "the road ahead is clear", but stressed that Kosovo should implement the standards to build "a truly multiethnic society".

Kosovo President Ibrahim Rugova on Thursday reiterated that the "only platform for the status talks is the independence".

In Washington, senior State Department official Nicholas Burns said that Kosovo's uncertain political status was " no longer sustainable."

Kosovo's future remains a highly contentious issue, the BBC's UN correspondent Susannah Price says.

The 15-member UN Security Council is due to vote on the issue later this month.

Shuttle diplomacy

"As indicated in the report, Mr Eide has concluded that while standards implemented in Kosovo has been uneven, the time has come to move to the next phase of the political process," Mr Annan said.

"I accept Mr Eide's conclusion," he added.

The talks are expected to take the form of shuttle diplomacy.

The task of mediating is expected to be assigned to the former Finnish President Martti Ahtisaari, who helped broker a ceasefire between Nato and Serbia in 1999.

The confidential report is expected to say that Kosovo Albanians must make further progress in meeting the UN-set standards before the talks can conclude.

Belgrade has complained that Serbs in Kosovo are denied basic human rights such as safety and freedom of movement.

Nato air attacks drove Serb troops out of Kosovo in 1999 in a campaign to stop what the West said was persecution of the majority Albanians, some of whom had taken up arms against the Serb forces.

Ethnic Albanians make up 90% of Kosovo's estimated population of two million.

Of some 200,000 Serbs left in Kosovo, about half live in enclaves protected by Nato troops.
Source: www.bbc.com
http://news.bbc.co.uk/2/hi/europe/4319566.stm
Support Caprivi Freedom
Fill out the form below to become a member of this site and receive our regular newsletter.