News and Information
---
Lawyers gear to argue 2nd treason trial challenge
October 7, 2005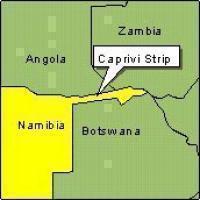 Lawyers gear to argue 2nd treason trial challenge
*WERNER MENGES

THE last testimony on eleven Caprivi high treason suspects' claims that they were abducted from Botswana to be arrested and prosecuted in Namibia was heard in the High Court in Windhoek yesterday.

With all the testimony on the eleven's challenge against the High Court's power to try them now on the record before Acting Judge John Manyarara, the arguing can start about how the evidence should be interpreted.

Lawyers involved in the second high treason trial over an alleged plot to secede the Caprivi Region from Namibia will address the judge on Tuesday next week with their final arguments on the jurisdiction challenge.

On record before Acting Judge Manyarara is testimony given by seven witnesses called by Deputy Prosecutor General Danie Small to give evidence for the State, as well as testimony by ten of the eleven men raising the jurisdiction challenge.

Only one of the eleven, John Mazila Tembwe, did not testify to tell the court about the circumstances of his return to Namibia.

One of the other men in the dock with him, Hoster Simasiku Ntombo, told the Acting Judge on Wednesday this week that Botswana officials transported him and Tembwe together to Namibia on September 20 2002.

Both of them had been given political asylum in Botswana before they were brought back to Namibia in handcuffs and leg irons, Ntombo told the court.

The eleven are claiming that they were abducted from Botswana, where they had been given the protection of refugee status.

They are claiming that the Botswana authorities had them arrested despite their refugee status, and handed them over to Namibia, where they were then charged with high treason.

Seven of them were handed over to Namibia on December 12 2003, two were handed over on September 20 2002, and two on December 6 2002.

One of the two men handed over on December 6 2002, Alex Mafwila Liswani, was the last witness to testify yesterday.

His testimony could demonstrate the difficulties that the eleven may face with their jurisdiction challenge.

All the evidence that Small submitted on behalf of the State dealt with Namibia's reception of the eleven, rather than the legality of the circumstances in which they were detained in Botswana and handed over to Namibia.

According to the testimony that Small led, Namibian officials only stood ready to receive the men after Botswana decided to strip them of their refugee status and deport them.

Small did not delve into what had happened on the Botswana side - and he may have powerful legal backing for that strategy.

That support may be found in the decision that the Supreme Court took in July last year.

It ruled that a similar jurisdiction challenge raised by 13 Caprivi high treason suspects who were then on trial in the High Court at Grootfontein should not have succeeded in that court.

In a majority decision by three of the five Supreme Court judges, the court accepted that there was a legal principle that one country's courts would not sit in judgement on acts that another country's Government had performed within the other country's territory.

In an alleged cross-border abduction case, the Supreme Court's decision indicated, the courts of a country that receives a suspect from another country would decline to try that suspect only if it is shown that the receiving country's authorities broke their own laws, or international law, by intruding onto the other country's territory or by encouraging the other country to break its own laws.

One of the 13 treason suspects whose surrender to Namibia was judged to have been legal by the Supreme Court was Osbert Mwenyi Likanyi.

He was handed over together with Liswani, the last witness to testify yesterday, and Boster Samuele, another of the eleven who raised the latest jurisdiction challenge.

Liswani remarked at one stage in his testimony on Wednesday that he was disappointed that the Botswana officers who had arrested him were not at court to give evidence.

Hoster Ntombo made a similar comment in his testimony.

Diamond Salufu stated the same on Tuesday, but added: "It's not a fair trial to be tried without the police officer who arrested you."

He was supposed to have been given a chance to raise his objections against being handed over to Namibia in a court in Botswana, and not only in Namibia, Salufu said.

According to evidence that Small presented to the court, Botswana's authorities decided to revoke the eleven's refugee status because they had returned to Namibia several times while they were supposed to be seeking protection as refugees in Botswana.

All ten suspects who testified denied this.

But without direct evidence from Botswana, and with the guidance of last year's Supreme Court's decision, their lawyers may have their work cut out for them when they argue their case next week.
Source: www.namibian.com.na
http://www.namibian.com.na/
Support Caprivi Freedom
Fill out the form below to become a member of this site and receive our regular newsletter.