News and Information
---
Treason suspects tell of shackled return to Namibia
October 4, 2005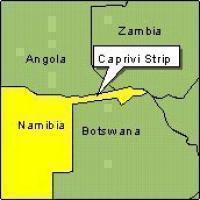 * WERNER MENGES

SEVEN of the Caprivi high treason suspects returned to Namibia at gunpoint, in leg irons, and protesting powerlessly when they were expelled from Botswana in late 2003, the High Court has heard.

Acting Judge John Manyarara started hearing testimony last Wednesday by 11 of the high treason suspects who are disputing the High Court's power to try them.

They claim that they were abducted from Botswana when that country's authorities handed them over to Namibia in three separate groups between September 20 2002 and December 12 2003.

The way they were returned after they had been granted refugee status in Botswana constituted a breach of international law, which should preclude a Namibian court from agreeing to have them tried before it, they claim.

The first of the suspects, Progress Munuma, started giving evidence on the eleven's special pleas after Deputy Prosecutor General Danie Small rested the prosecution's case on the special pleas on Wednesday.

Small had called seven witnesses to testify on behalf of the State.

The main thrust of their testimony was that they had been involved in receiving Namibian citizens who were deported from Botswana on three occasions - in September and December 2002, and on December 12 2003.

On each occasion, the witnesses testified, they had been involved only in receiving people in Namibia.

They said that was after the Botswana authorities had notified their Namibian counterparts that Namibians whose refugee status in Botswana had been revoked would be deported as illegal immigrants.

According to the Botswana authorities, the Namibians' refugee status was withdrawn because they returned to Namibia, from where they had supposedly fled because of fears for their safety, after they had been granted asylum in Botswana.

By the time the trial adjourned yesterday, the defence's seventh witness, Diamond Samuzula Salufu, was testifying on the circumstances in which the last of the three groups was returned to Namibia.

All seven of these witnesses were part of a group of eight men who the Botswana authorities handed over to Namibia at the Ngoma border post in the Caprivi Region on December 12 2003.

All seven have denied that they broke the conditions of their stay as refugees in Botswana.

Far from the claims that they returned to Namibia, they had been held in custody, without trial, for years before they were forced against their will to return to Namibia, they have told the court.

They claimed that they were being kept at a centre for illegal immigrants in Francistown when Botswana officials took them to Ngoma on December 12 2003.

They were not served with deportation orders, they claimed, and their protests against the move fell on deaf ears.

Before they were moved on June 9 2003, they had been kept without trial in a maximum-security prison in Francistown, they also claimed.

They had been transferred to that prison at different times after they were arrested at the Dukwe refugee camp, where they had previously stayed, they told the Acting Judge.

One of the seven, Vincent Sinasi, testified yesterday that a representative of the United Nations High Commissioner for refugees in Botswana had told the group at the centre for illegal immigrants in Francistown that they would be in his care from then on, and that part of his responsibility would be to find a place where they could be settled.

"As I'm talking to you now, our names are already in the offices of the UNHCR in Geneva," Sinasi told Acting Judge Manyarara.

On December 11 2003, he and another seven Namibians were told that they would be going to Gaborone the next day.

"Speaking for myself today, I was very happy," he said, adding that he thought a place had been arranged for them to be settled.

The next morning, however, when they asked where they were going, they were told not to ask any questions, and just to get their luggage together, Sinasi said.

When they asked the officer in charge of the centre whether the UNHCR, the Red Cross and a Botswana human rights organisation had been informed that they were being moved, the officer said it had nothing to do with him, Sinasi said.

The officer then told the commander in charge of armed policemen who were present at the centre to "do your job", Sinasi testified.

Upon that, AK47s were being cocked, leg irons were fetched and placed on the eight men, and they were pushed into a vehicle, he said.

They were first driven to a nearby police station, where the station commander told them that the Namibian Government wanted them, and were then transported further to Ngoma, Sinasi said.

When they got out of the vehicle on the Namibian side of the border, they were still in leg irons.

These were then removed by Botswana officials who had accompanied them, Sinasi said.

"I had a very bad birthday, because I was born on the 12th of December, and this was the very same day that I was deported to Namibia, Sinasi added.

Once they had been handed over to Namibian officials, a Policeman, Detective Sergeant Kavenauue Kombungu, approached them and told them that they were being charged with high treason, he said.

For the 11 to succeed with their special plea, they might have to prove that Namibian officials were involved in the decision to deport them.

Sinasi and his co-accused may already have laid the groundwork for just such an argument.

Sinasi toll the court yesterday that the day after their arrival at Ngoma, Deputy Commissioner Abraham Maasdorp - who heads the Namibian Police's investigation of the high treason case - also arrived at Ngoma.

He told the detained men that he had driven behind them from Francistown the previous day.

This, said Sinasi, showed that his arrest and abduction from Botswana was not necessarily only the work of the Botswana government.
Source: www.namibian.com.na
http://www.namibian.com.na/
Support Caprivi Freedom
Fill out the form below to become a member of this site and receive our regular newsletter.