News and Information
---
Second treason trial stays stuck in starting blocks
June 14, 2005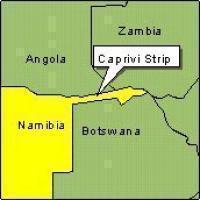 * WERNER MENGES

A STUBBORN stand against accepting a Directorate of Legal Aid counsel as his defence lawyer saw one of the men being prosecuted in what is supposed to become the second Caprivi high treason trial achieving little other than preventing the start of the trial yesterday.

The trial was set to kick off before Acting Judge John Manyarara in the High Court in Windhoek.

It was not to be, though, as the court was instead asked for a postponement of at least three weeks .

One of the 12 accused, John Mazila Tembwe, who is accused number 11 in what is set to become the second high treason trial over an alleged plot to secede the Caprivi Region from Namibia, is still refusing to accept any lawyer employed in the Directorate of Legal Aid as his defence counsel.

Legal Aid counsel Duard Kesslau has been instructed by the Director of Legal Aid to represent Tembwe, but Tembwe has flatly refused to accept the services of any lawyer directly employed by the State.

This led to the Director of the Legal Assistance Centre, Norman Tjombe, appearing on Tembwe's behalf before Acting Judge Manyarara yesterday to ask for a postponement so that another counsel, in private practice, could be found and instructed to represent Tembwe.

Tjombe told the Judge that a matter of trust was the essence of Tembwe's objection against being represented by a Legal Aid counsel.

Tembwe simply could not accept that someone employed in the same Ministry of which the Office of the Prosecutor General is now again a part - after the Justice Ministry and the Office of the Attorney General were again merged on March 21 this year - would be able to advance his case as rigorously and vigorously as he would want, Tjombe indicated.

A postponement would however be futile.

Even after three weeks, the stance of the Director of Legal Aid would remain the same, Deputy Prosecutor General Danie Small told the court in reply.

According to the Director, he had provided Tembwe with an able defence counsel, and he would not be in a position to instruct a private lawyer in Kesslau's place just because of Tembwe's insistence, the court was told.

A postponement might in any event be inevitable for another reason, Small added.

He indicated that Nate Ndauendapo, who is representing the other 11 accused, had indicated that some of his clients had instructed him to raise a special plea at the start of their trial.

It is understood that, just as 13 of the 120 accused men in the first Caprivi high treason trial did in the High Court at Grootfontein in late October 2003, they want to challenge the court's jurisdiction over them.

The case of Tembwe and his co-accused is now set to return to court on Thursday, by when Acting Judge Manyarara should be formally informed what plans on a special plea Ndauendapo has up his sleeve, and may indicate what his decision is on Tjombe's application for a postponement.



Source: www.namibian.com.na
http://www.namibian.com.na/
Support Caprivi Freedom
Fill out the form below to become a member of this site and receive our regular newsletter.