News and Information
---
Mandela's G8 plea at Aids concert
June 11, 2005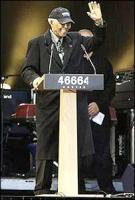 Nelson Mandela appears on stage at the Aids benefit concert in Tromsoe
Nelson Mandela received thunderous applause at the concert
Former South African President Nelson Mandela has urged G8 leaders to show "leadership, vision and political courage" in the fight against HIV/Aids.

He was speaking at an Aids benefit concert organised in his name in the high Arctic Norwegian city of Tromsoe.

Rock stars such as Annie Lennox, Robert Plant and Peter Gabriel took part in the fourth such event.

The Mandela 46664 concert - named after his prison number - was thought to have attracted 15,000 people.

To thunderous applause, Mr Mandela delivered his message to the leaders of the G8 countries ahead of their summit in Scotland in three weeks time.

"They have an historical opportunity to open the door to hope and the possibility for a better future for all," said the 86-year-old, who lost his son to Aids in January.

"History and generations to come will judge our leaders by the decisions they make in the coming weeks.

"We urge them to save the lives of our children - let every child be a healthy child.

"We know what to do and what it will cost. We now need leadership, vision and political courage."

An estimated 5.3 million of South Africa's 45 million people live with HIV, more than in any other country.

Worldwide it is estimated that 25 million people are infected with the virus and millions more contract it each year.

More than a million people are infected in Russia and the other former Soviet states, and an estimated five million people in India are HIV positive.
Source: www.bbc.com
http://news.bbc.co.uk/2/hi/entertainment/4084366.stm
Support Caprivi Freedom
Fill out the form below to become a member of this site and receive our regular newsletter.