News and Information
---
Somalia's president returns home
June 13, 2005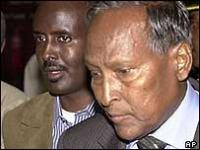 President Yusuf
President Yusuf fears for his life in Mogadishu
The new Somali president has returned home from exile in Kenya, hoping to set up the lawless country's first effective authority for 14 years.

The move has been delayed for nine months amid concerns over security in the Somali capital, Mogadishu.

Some have called for UN peacekeepers to be deployed in Somalia to stop armed militias disrupting the transition.

President Abdullahi Yusuf arrived in Jowhar in central Somalia where he was welcomed by hundreds of locals.

Kenya's president hosted a farewell party, though a deep rift remains over where the government will be based.

Secrecy

Because of security concerns, officials said until the last minute that Somali was first flying to Qatar and not going directly to Somalia.

He left in a small plane accompanied by half a dozen advisors.

BBC East Africa correspondent Ishbel Matheson says the secrecy surrounding Mr Yusuf's travel plans highlights the problems faced by the new government.

Jowhar is one of the towns where he wants to base the government, because he fears his life may be under threat in Mogadishu, where he does not have a strong support base.

Mr Yusuf also wants the government to be based in Baidoa but the town is controlled by a warlord who does not support the idea.

Prime Minister Ali Mohammed Ghedi and other ministers remained in Kenya.

Failed

The speaker of parliament and some 100 MPs, including the warlords who control most of the capital, insist that the government must set up in Mogadishu.


Let us be brave and go home
President Abdullahi Yusuf
Because of the deep splits, some analysts are already saying that this peace process, like 14 others before it, has failed.

Last week, warlords began a process of dismantling roadblocks run by their gunmen in Mogadishu to help to make the city safer.

Earlier this year, a bomb blast went off in the city at a rally being addressed by Mr Ghedi.

"Let us be brave and go home," transitional President Yusuf told Somali lawmakers on Sunday, before announcing a two-month break for MPs.

The speaker immediately said that this recess was unconstitutional.

'Pleased'

Many ministers and MPs are going first to their home regions or abroad, officials say.

Facts and figures about life in Somalia

At-a-glance
After hosting Somali peace talks since 2002, Kenya was keen for the MPs to return home.

"I am pleased to note that the transitional federal president of the republic of Somalia and his government... have finalised plans to relocate and are now ready to go back home," Kenyan minister John Koech told the Associated Press.

A spokesman for Mr Yusuf said some government departments would initially be distributed around all three towns, AP reports.

After 14 years of anarchy, nearly all government buildings have to be rebuilt - many are occupied by refugees who have fled fighting around the country.

The UN should lift an arms embargo on Somalia to allow the deployment of African peacekeepers, East African development group IGAD has said.

Militiamen in Mogadishu
Concerns remain over militia groups who still roam Mogadishu
The African Union has promised to send peacekeepers to Somalia - however only when it is safe to do so.

Mogadishu's warlords and some Islamic groups do not want any foreign troops to be deployed.

Meanwhile, some 7,000 Somali refugees have entered Kenya since last week following fighting in Bur Hache town, close to the border.

Reports say more than 20 people have been killed in clashes between the rival Marehan and Garre clans for control of the town.
Source: www.bbc.com
http://news.bbc.co.uk/2/hi/africa/4086680.stm
Support Caprivi Freedom
Fill out the form below to become a member of this site and receive our regular newsletter.