News and Information
---
Zimbabwe police in strike warning
June 6, 2005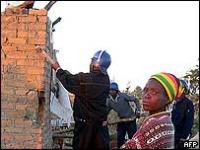 Man watches police demolish his house
Some 200,000 have been left homeless
Police in Zimbabwe have warned they will take tough action against a general strike due to be held on Thursday and Friday.

A police spokesman said they would deal "ruthlessly" with those who take part. Extra forces have been deployed to suppress protests. The strike call has come from a previously unknown group, the Broad Alliance.

It says it has been organising street protests against the current slum clearance programme.

Some 30,000 people have been arrested, and homes and businesses destroyed, in a two-week government campaign.

The United Nations says 200,000 have been made homeless.

'Apartheid'

The authorities said the operation was designed to clean-up Zimbabwe's urban areas, but it has been heavily criticised by church groups and opposition parties.

On Friday, the UN demanded that President Robert Mugabe stop the evictions, which it describes as a new form of "apartheid".

Miloon Kothari, a UN expert on the right to adequate housing, said the clearances sought to banish the poor from the capital, Harare, turning it into a preserve of the wealthy classes.

He warned that two to three million people - roughly a quarter of Zimbabwe's population - could be affected if the eviction drive continued.

"Where do they go back to?" he said. "There is no resettlement being offered, no compensation being offered for the properties that have been destroyed."

Lobby group Amnesty International has called for an end to the demolitions, which some are calling a "tsunami".
Source: www.bbc.com
http://news.bbc.co.uk/2/hi/africa/4614989.stm
Support Caprivi Freedom
Fill out the form below to become a member of this site and receive our regular newsletter.