News and Information
---
Nine American troops killed in Iraq
May 24, 2005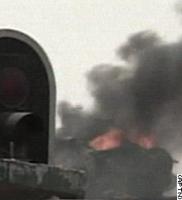 Militant Web sites say al-Zarqawi wounded

Tuesday, May 24, 2005 Posted: 1:31 PM EDT (1731 GMT)

vert.iraq.5.24.ap.jpg
A Baghdad car bomb blast Tuesday near an Iraqi police convoy killed two civilians, police said.
Image:

BAGHDAD, Iraq (CNN) -- Insurgent attacks during the past 24 hours have killed nine U.S. troops in Iraq, the military said Tuesday.

Three soldiers died in a car bombing in central Baghdad on Tuesday and a fourth -- who was manning an observation post -- was killed by a drive-by gunman, Task Force Baghdad spokesman, Maj. Darryl Wright said.

Four other American soldiers were killed by a bomb on Monday, the military said. They were assigned to the 155th Brigade Combat Team, 2nd Marine Expeditionary Force.

The explosive "detonated near their vehicle" in fighting in Haswa, south of Baghdad.

A ninth American -- a Marine -- died Monday after an "indirect fire attack" on Camp Blue Diamond in Ramadi, the Marines said.

The deaths bring the number of U.S. troops killed in the Iraq war to 1,644, according to U.S. military reports.

Two significant developments surfaced Tuesday regarding the Iraqi insurgency.

Several Islamist militant Web sites reported that Abu Musab al-Zarqawi -- the Iraq's Jordanian-born insurgent leader -- has been wounded.

The announcement -- which could not be independently verified -- is attributed to militant Abu Maysara al-Iraqi, who has posted messages regarding al Qaeda in the past.

It said that al-Zarqawi's comrades are proud of what they described as his heroic wounds and threatens that the "resistance will get tougher" as U.S.-led attacks on insurgents intensify.

The message also asks for "prayers for our leader." (Full story)

Also Tuesday, the U.S. military announced that a "Ramadi-based insurgent leader" was taken into custody.

Muhammad Daham Abd Hamadi was captured after Iraqi citizens led multinational forces to his location in Baghdad, the military said.

Daham leads the al-Naman Brigade, the military said, and he has links to insurgents leaders -- possibly al-Zarqawi's network.

"Daham is responsible for numerous attacks against coalition and Iraqi forces and has provided weapons, funds and foreign fighters to numerous small cells operating under his control," the military said. "He has been linked to several kidnappings in the Ramadi area. Daham and his organization kidnap local businessmen and governmental officials to fund terrorist operations."
Other developments

# A car bomb exploded Tuesday near an Iraqi police convoy in eastern Baghdad, killing two civilians and wounding eight others in the Karrada neighborhood around a corner from a girls' school, police said.

# In northeastern Mosul on Tuesday, a member of Iraqi civil defense died after a bomb he was trying to defuse detonated, a spokesman for the region's Joint Coordination Center said. Four others were wounded in the blast.

# Gunmen Tuesday kidnapped Nassir Sa'ed Al-Sayfi, an employee of Oman's embassy in Baghdad, the Iraqi Interior Ministry said Tuesday. "He was kidnapped from his house by unknown gunmen in a black BMW," the ministry said.

# Heading into the third day of a wide-ranging offensive against insurgents in western Baghdad, Iraqi security forces working with the U.S. Army have detained more than 400 "suspected terrorists" during Operation Squeeze Play, a military statement said Tuesday.

#
# Attorneys for U.S. Army Pfc. Lynndie England, once called the "poster child" of Iraq's Abu Ghraib prison, waived her right to a preliminary hearing Tuesday. The move allows the Army to proceed to a full court-martial unless her attorneys are able to strike a new plea deal with prosecutors. Because the judge in her case threw out an earlier plea deal, England faces a maximum 11 years in a military prison on charges that include conspiracy, maltreatment of Iraqi detainees, and sexual indecency for her actions at Abu Ghraib. (Full story)

# The Iraqi government on Tuesday announced a $200,000 reward for information leading to the capture of Ahmed Hassan Kaka al-Ubaidi, a former Saddam Hussein regime official suspected of involvement in police killings, oil pipeline sabotage, terror operations in northern Iraq, and traveling to Syria to bolster the insurgency.

# Shiite Muslim sheikh Hummam Hammoudi has been chosen to head a 55-member panel in charge of drafting a new Iraqi constitution, the transitional National Assembly said Tuesday. A constitution must be drafted by August 15 and is to be placed before voters in a referendum this year. Hammoudi is an aide to Abdul Aziz al-Hakim of the Supreme Council for the Islamic Revolution in Iraq and a member of the United Iraqi Alliance, the Shiite-led coalition that received the most votes in the January 30 general election.
Source: www.cnn.com
http://www.cnn.com/2005/WORLD/meast/05/24/iraq.main/index.html
Support Caprivi Freedom
Fill out the form below to become a member of this site and receive our regular newsletter.