News and Information
---
Bush rejects Karzai army demand
May 24, 2005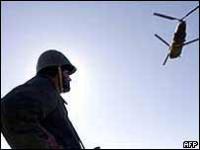 Bagram air base
Mr Karzai wants all Afghans at Bagram handed over
President George W Bush has ruled out handing over command of US troops in Afghanistan to the government there.

Afghan President Hamid Karzai had said he would demand the move during talks with Mr Bush at the White House.

It follows anger over fresh details of torture and the deaths of two Afghan citizens at the main US military base, near the Afghan capital.

"Our troops will respond to US commanders," Mr Bush told reporters when pressed on the issue.

QUICK GUIDE

Afghanistan

He said the US and Afghans would "co-operate and consult" over military operations.

He also made no commitment to hand over prisoners to the Afghan authorities.

Anti-US feeling in Afghanistan emerged in a wave of riots this month.

'Great faith'

The White House talks were preceded by controversies over prisoner torture and Mr Karzai's record on eradicating Afghanistan's illegal drugs trade.

But the two men began their remarks to journalists by strongly praising each other.


Presidents Karzai and Bush

Analysis: US-Afghan tensions

"I've got great faith in this man as a leader," Mr Bush said.

And Mr Bush announced that the two men had signed a strategic partnership to strengthen military, economic and political ties.

Mr Karzai told journalists afterwards that "we are sad" about the abuse of Afghans by US troops, but that it did not reflect on the American people - "these things happen everywhere," he said.

Both presidents promised as well to take action to curb Afghan poppy-growing.

President Karzai said he hoped Afghanistan would be free of poppy crops within five to six years.

"That's a promise we have given to the world and to the Afghan people, and that's a promise that we will deliver on. Hold us accountable on that," he said.

'Not acceptable'

The days before Monday's talks at the White House saw renewed controversy over the torture and killing of Afghan detainees at Bagram military base, north of Kabul.

US soldier in Afghanistan
The report was leaked by someone involved in the US inquiry
New details surrounding the killing of two Afghans at Bagram in 2002, and the torture of other inmates were published by the New York Times on Friday.

Seven soldiers have so far been charged in connection with the two deaths.

The report led Mr Karzai to insist that during his talks with Mr Bush he would request the handover of all Afghan detainees in US custody and also control over US military operations in Afghanistan.

It detailed how prisoners were chained to ceilings and beaten. One female interrogator was reported to have stepped on a man's neck and kicked another in the genitals.

'Unwilling'

But the Afghan leader has also been forced to defend himself from American claims that he has not done enough to clamp down on Afghanistan's illegal drugs trade.

Another report leaked to the New York Times showed US diplomats in Kabul telling their government that Mr Karzai had "been unwilling to assert strong leadership" to curtail Afghanistan's heroin trade.


HAVE YOUR SAY
Turning the US military over to Afghan control would be a disaster for troop morale and domestic political suicide for Bush.
Sue, New Jersey, USA

Send us your comments

The BBC's Andrew North in Kabul says that, despite these issues, the fundamentals of US-Afghan relations remain the same - Afghanistan still needs US support for almost every aspect of its security and development.

Mr Karzai has received solid backing from the US since playing a leading role in the campaign to topple the Taleban.

President Karzai's four-day trip to the US comes after recent violent anti-US protests in Afghanistan following allegations in Newsweek magazine - now retracted - that US guards at Guantanamo Bay, Cuba, had desecrated the Koran.
Source: www.bbc.com
http://news.bbc.co.uk/2/hi/south_asia/4572657.stm
Support Caprivi Freedom
Fill out the form below to become a member of this site and receive our regular newsletter.