News and Information
---
Angry Sunnis shut Baghdad mosques
May 24, 2005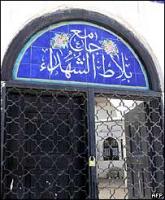 Padlocked entrance to mosque
Sunni worshippers have been told to stay where they are to pray
Sunni mosques in Baghdad have been closed to worshippers as part of a three-day protest against a recent series of killings of Sunni Muslims.

Traditional calls to prayer came with an additional request that the faithful say their prayers wherever they were.

The action comes at a time of growing tension between the Sunni community and Iraq's Shia majority.

Sunni clerics have accused a Shia militia known as the Badr brigades of involvement in the killings.

The brigades, which are affiliated to one of the main parties in the new government, have rejected the accusation.

Meanwhile a group of about 1,000 leading Sunni Arabs, meeting in Baghdad, called for the resignation of Interior Minister Bayan Baqir Solagh over the deaths.

"We ask for the creation of an independent investigation team to look into the murders, the torture of detainees and we demand the interior minister's dismissal," a statement by the group said.

In other developments:

* Two Iraqis said to be acting suspiciously are shot dead on the southern outskirts of Baghdad, the Iraqi military says

* The bodies of three civilians shot dead on Thursday are found in an orchard near Latifiyah, south of the capital, security officials say.

Calls for unity

Shias in Iraq have been targeted by insurgents for many months in a series of car bombs thought to be aimed at provoking sectarian strife. There have also been assassinations of Shia clerics.

Sunni Arabs' conference in Baghdad
Leading Sunnis want an independent inquiry into the killings

But over the past few weeks there has been a new string of unexplained killings.

Both Sunnis and Shias have been murdered - among them two Sunni clergymen whose bodies were discovered four days ago.

The deaths are part of what has prompted the mosque protest.

On Friday the political leader of Iraq's largest Shia party, Abdul Aziz Hakim, appealed to Iraqis to unite against attempts to divide them.

But the BBC's Caroline Hawley in Baghdad says tensions between the Shia majority and the Sunni minority are growing despite the calls for restraint.

Some here have begun to fear that Iraq could be dragged into civil war.
Source: www.bbc.com
http://news.bbc.co.uk/2/hi/middle_east/4569103.stm
Support Caprivi Freedom
Fill out the form below to become a member of this site and receive our regular newsletter.