News and Information
---
Second batch of high treason suspects lose their lawyers
May 19, 2005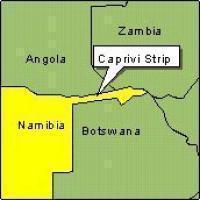 * WERNER MENGES

ANOTHER 15 of the 120 high treason suspects on trial in the High Court at Grootfontein have lost their legal representation.

The 15 on Tuesday appeared to have chosen the route followed by another 15 of their co-accused on February 1, when defence lawyers representing members of the first group announced that they would no longer be conducting the defence of that group.

As with the first group, the 15 men also want to challenge the Court's legal capacity to try them.

Indications are that this step would be based on an argument that the court has no jurisdiction over them because, in their view, the Caprivi Region has never actually legally been part of Namibia, and they regard themselves to be Caprivians, and not Namibian citizens.

The situation that confronted the court on February 1 was repeated without prior warning when the trial returned to court after a seven-week break on Tuesday.

Defence counsel Jorge Neves, Hennie Krueger, Victor Kachaka, Jonathan Samukange and Percy McNally informed Judge Elton Hoff that their mandate to represent some of their clients had been terminated.

The result is that 30 of the men on trial now don't have legal representation.

Kachaka told Judge Hoff that he had to withdraw from representing three of his clients because they insisted on raising the issue of the court's jurisdiction over them.

He added, though, that he remained open to continuing to represent them on the merits of the case when the trial continues.

Neves added that six of his clients wanted to pursue the same issue - contrary to his instructions, he said - with the result that he would no longer be representing them.

One of McNally's clients, two of Samukange's, and three of Krueger's were in the same position.

The 15 join a group of equal size that includes some of the main actors among the accused in the high treason trial.

These include John Samboma, the alleged commander of the secessionist Caprivi Liberation Army, and two other alleged leading figures in the plan to force the separation of the Caprivi Region from Namibia - Thaddeus Ndala and Aggrey Makendano.

One of the other leading members of that group once again conveyed their dismissive view of the trial proceedings to Judge Hoff on Tuesday.

Former school principal Martin Tubaundule told the Judge: "As we have indicated, we stated earlier that we are not part and parcel of this trial."

While that may be his stance, Tubaundule nevertheless also complained about the frequent postponements of that same trial, telling the Judge that it was an insult to be told that the trial would proceed more quickly if it was shifted to Windhoek, as requested by the prosecution this week.

Makendano also addressed the court to vent his anger at what he said was treatment that he regarded as akin to torture - "physically, mentally and psychologically" - from the Police and prison officials overseeing the treason suspects' continuing detention.

Makendano complained bitterly that two petitions he had tried to send to the Secretary General of the United Nations this past weekend had been confiscated by a prisons officer.

He told Judge Hoff that in the petitions he wanted to appeal to UN Secretary General Kofi Annan to help find "an immediate political solution of the Caprivi issue", and also wanted to inform Annan about how he and his co-accused were tortured by Police officials some six years ago.

As a trial-awaiting prisoner, he had a right to address petitions to the UN, OAU, SADC or whomever he wanted to, Makendano said.

He asked the Judge to order that the petitions, as well as two books on the history of Caprivi that he said were confiscated from him in May 2001, should be returned to him.

In the group that became legally unrepresented this week are some of the treason suspects alleged to have been directly involved in the armed attacks the CLA is accused of carrying out at Katima Mulilo on August 2 1999.

One of them, John Tibiso Masake, is also the only person among the 120 who offered a guilty plea when he was first asked to plead to high treason and other charges in January 2001.

He has since changed his stance, and in March last year pleaded not guilty to all 278 charges.

In Tuesday's group are: Postrick Mwinga, Joseph Kamwi, Raphael Lifumbela, Chris Ntaba, Sylvester Ngalaule, John Tibiso Masake, Francis Buitiko Pangala, Brighton Simisho Lielezo, John Kabotana, Ernest Lolisa Lifasi, Victor Tumoni Lunyandile, Rex Kapanga, Moven Kawana Chombo, Brendan Luyanda and Austen Ziezo.
Source: www.namibian.com.na
http://www.namibian.com.na/
Support Caprivi Freedom
Fill out the form below to become a member of this site and receive our regular newsletter.