News and Information
---
Car bomb blows apart Iraq market
May 6, 2005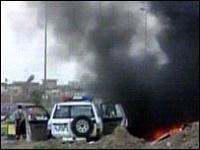 Shia Muslims chant in Sadr City, Baghdad
Muslims found the Friday holiday another day of bloodshed
At least 16 people have been killed in a car bomb attack in a market south of Baghdad, Iraqi police say.

As many as 40 people were injured in the blast at Suwayra, about 60km (38 miles) south of the capital.

In Baghdad, police found a shallow grave with the bodies of 14 men, apparently the victims of execution-style killings.

Meanwhile at least eight police officers died in a bombing near the northern city of Tikrit.

There has been intense violence since a new Iraqi government was announced in late April. More than 250 people have died.

In the Suwayra attack, a car exploded near a crowded vegetable market at about 1500 (1100 GMT) on the Friday holiday.

Mixed town

Police said the blast blew away stalls and destroyed cars.

Doctors at the local hospital said the most severely wounded had been transferred to hospitals in Baghdad.


MAJOR ATTACKS SINCE JAN POLL
Site of ambush
5 May: At least 23 people die in wave of attacks in Baghdad
4 May: At least 50 people killed in suicide attack on police recruits in Irbil
29 April: At least 29 people killed in wave of car bomb attacks on Iraqi security forces
10 March: 47 people killed by suicide bomber at Shia funeral in Mosul
28 February: Massive car bomb kills 125 people in Hilla
19 February: Suicide bombers kill 30 people during Shia Ashura celebrations
18 February: Around 29 people die in attacks in Baghdad and Iskandariya
7 February: Attacks on security forces kill at least 25 people in Mosul and Baquba

Suwayra is a mixed Shia and Sunni Muslim town, but is near the so-called Sunni triangle, where there have been many attacks on Iraqi and coalition forces.

Earlier in Baghdad, police investigated a hole in the ground and found 14 bodies, dressed in the long white robes favoured by Sunni Islamists.

The BBC's Jim Muir says the incident does not fit into the pattern of normal insurgent activity, where killings are publicised as warnings to potential collaborators.

These bodies were found on the edge of an area heavily populated by Shia Muslims, who are frequently the victims of Sunni insurgents.

There is consequently speculation that these were revenge killings carried out against people suspected of being involved or having sympathy with the insurgents.

Bloody week

In the Tikrit blast, at least eight police were killed and several people were injured, including civilians.

Most of the casualties were believed to be on board a minibus, which had stopped at a checkpoint when it was caught in the blast at about 0800 (0400GMT).

The bloody day came at the end of a bloody week.

At least 23 people were killed in suicide bombings and gun attacks on police and army targets in Baghdad on Thursday.

On Wednesday, at least 50 were killed in an attack on police recruits in Irbil.

The violence comes as political wrangling goes on, with new Iraqi Prime Minister Ibrahim Jaafari struggling to bring Sunnis into his government and take the sting out of the insurgency.
Source: www.bbc.com
http://news.bbc.co.uk/2/hi/middle_east/4522643.stm
Support Caprivi Freedom
Fill out the form below to become a member of this site and receive our regular newsletter.