News and Information
---
Ethiopia PM warns of 'hate' poll
May 6, 2005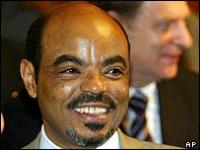 Prime Minister Meles Zenawi
Meles Zenawi has been in power for the last 14 years
Ethiopia's Prime Minister Meles Zenawi has accused opposition parties of fomenting ethnic hatred ahead of general elections on 15 May.

In a national television address, he compared opposition tactics to those used in the Rwandan genocide.

"The Ethiopian opposition is following the same trend to create havoc and hatred," Mr Meles said, AFP reports.

Last week the prime minister's party denied accusations that it was killing and intimidating opposition supporters.

Mr Meles was re-elected in parliamentary elections in 2000, following Ethiopia's first multi-party elections in 1995.

Observer ban lifted

The prime minister warned the opposition's campaign would lead to bloodshed.


We are not in favour of local observers who have not proved their independence of party influence
Prime Minister Meles Zenawi

"I call on the people of Ethiopia to punish opposition parties who are promoting an ideology of hatred and divisiveness by denying them their vote on May 15."

He said he did not welcome a court ruling earlier this week lifting a ban on the deployment of local observers.

"We are not in favour of local observers who have not proved their independence of party influence," he said, adding that observers had been invited from all over the world.

The European Union is sending 150 monitors to observe the elections.

In March, six US election observers were expelled from Ethiopia on the grounds they were operating illegally and "not invited".

'Disintegrating'

The opposition have alleged that police are intimidating their supporters at campaign rallies and taking away their polling cards.

But talking to religious leaders on Friday morning, Mr Meles called for a peaceful poll.

He urged them not to allow "seeds of discord to penetrate, in the pretext of electioneering... [to] protect this culture from cracking, splintering and disintegrating."

Some 25 million Ethiopians are able to vote for new members of parliament, who in turn choose a prime minister.

Some 35 parties are contesting the seats, although most of these are members of the three main coalitions: the ruling Ethiopian People's Revolutionary Democratic Front (EPRDF) and the opposition CUD and UEDF.
Source: www.bbc.com
http://news.bbc.co.uk/2/hi/africa/4522205.stm
Support Caprivi Freedom
Fill out the form below to become a member of this site and receive our regular newsletter.