News and Information
---
Killers fed farm worker to lions
April 28, 2005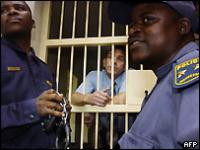 Crossley
Scott-Crossley and his workers killed the man 15 months ago
A South African farmer and one of his employees have been found guilty of murder for beating a farm worker and throwing him into a lion enclosure.

Mark Scott-Crossley and Simon Mathebula pleaded not guilty to murder. A third man is being tried separately once he recovers from suspected tuberculosis.

Scott-Crossley is white, while his accomplice, and the victim, are black.

Trade unionists say the case highlights continuing abuse of farm labourers and racial tensions in rural areas.

Beaten

The courtroom in the small town of Phalaborwa, on the edge of the Kruger National Park, was packed as the trial reached a dramatic conclusion.

Judge George Maluleke ruled that Scott-Crossley and his employee, Mathebula, had murdered Mr Chisale, in January of last year.



Lion case echoes farm tensions

Mr Chisale, a father of three, had returned to the farm from where he had been sacked two months earlier, to pick up some personal belongings.

At the farm he was beaten up, tied with rope and electrical wire and then driven, at night, in Scott-Crossley's car to Mokwalo White Lion Project at Hoedspruit, about 400km (250 miles) north-east of Johannesburg.

There he was thrown over the fence and devoured by the lions.

The only remains recovered from the enclosure were a few bones and some shredded clothing.

Publicity

Throughout the trial, Scott-Crossley denied being present during the beating and said Chisale was already dead by the time he was thrown into the lion's enclosure. The judge said that the convicted men will be sentenced later.

White lion
The victim was dumped at a white lion breeding project

Much of the testimony revolved around whether Scott-Crossley ordered the killing, as his workers had testified, and whether Chisale was still alive when he was thrown to the lions.

The story has attracted widespread publicity in South Africa, and protesters have demonstrated during the six-week trial outside the court in Phalaborwa in north-east South Africa demanding life sentences.

A bomb scare on Thursday morning resulted in the court building being searched by bomb disposal experts, and tight security measures were put in place inside and outside the court building, according to the South African Press Association.
Source: www.bbc.com
http://news.bbc.co.uk/2/hi/africa/4492953.stm
Support Caprivi Freedom
Fill out the form below to become a member of this site and receive our regular newsletter.