News and Information
---
Assistant Secretary Newman hints to Congress of possible further action
April 21, 2005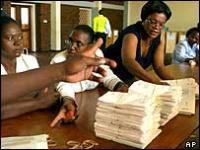 United States Department of State (Washington, DC)
April 21, 2005
Posted to the web April 22, 2005

Jim Fisher-Thompson
Washington, DC

Assistant Secretary Newman hints to Congress of possible further action

Zimbabwean President Robert Mugabe's actions leading to -- and during -- flawed parliamentary elections in March have prompted the U.S. government to review its sanctions policy toward his regime, Assistant Secretary of State for African Affairs Constance Newman told Congress April 21.


In testimony before the House Subcommittee on Africa, Global Human Rights and International Operations, Newman said, "The March 31 elections for Zimbabwe's Parliament were a travesty of democratic standards. They were not free and fair. Instead, they are proof that Robert Mugabe and the ZANU-PF party continue to trample on Zimbabwe's democratic institutions and traditions; they continue to rule by fraud and coercion."

She told Subcommittee Chairman Christopher Smith (Republican of New Jersey), "On election day thousands of voters were turned away from the polls. The vote count was almost certainly rigged and credible evidence suggests that ZANU-PF stole more than a dozen seats from MDC [Movement for Democratic Change]," the main opposition party.

Generally, "the elections were a sad day for Zimbabwe and for the cause of democracy in the region," Newman told lawmakers.

In response, she said U.S. government agencies are "reviewing and updating our sanctions regime to ensure that our targeted sanctions have flexibility and teeth, and are adequate to the new situation."

When asked by Smith to go into detail, Newman declined, but in her written statement said, "I can say that the election has reconfirmed the need for targeted financial and travel sanctions on regime leaders who undermine democracy. The individuals who abused democracy and helped to steal this election must be held accountable." She added her office might have more details for the subcommittee "a month from now" or even sooner.

Newman was quick to add, however, that the expanded sanctions, if any, would not be aimed at the Zimbabwean public. "The United States has not and does not intend to impose general sanctions on Zimbabwe that will hurt the people or economy. We reject any steps that would cause ordinary Zimbabweans to suffer for the sins of the ZANU-PF leadership."

U.S. assistance to meet the growing food and health crisis in Zimbabwe caused by Mugabe's flawed agricultural policies, including forcible land seizures, would also not be affected, Newman added. She pointed out that the U.S. government has provided close to $300 million in humanitarian assistance since 2002.

Smith commented on Zimbabwe's wrecked economy saying, "Four hundred thousand agricultural jobs have been lost. And, while the continent of Africa is experiencing the highest economic growth in nearly a decade, Zimbabwe's economy is contracting."
Relevant Links
Southern Africa
United States, Canada and Africa
Crime and Corruption
Zimbabwe

Declaring, "leadership does matter," Smith mentioned the 25th anniversary of Zimbabwe's independence celebrated on April 18 and Mugabe's role in politics. "Rather than take the success he achieved in 1980 and build on it, President Mugabe has taken the repressive path and has systematically violated the fundamental human rights of the people of Zimbabwe.

"Robert Mugabe was a hero to his people and to his fellow Africans for successfully standing up to racism and oppression," but now, "more than anyone else, President Mugabe has contributed to a climate of fear, and heightened even further explosive racial tensions" in Zimbabwe, Smith concluded.

Source: www.allafrica.com
http://allafrica.com/stories/200504220139.html
Support Caprivi Freedom
Fill out the form below to become a member of this site and receive our regular newsletter.