News and Information
---
Mother Land -CAPRIVI Our Blood for you and United we shall be forever:
April 21, 2005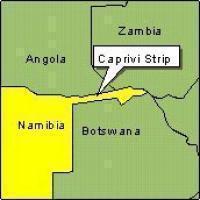 In response to an article reported in the Namibian Newspaper, Titled; "Plans of ethnic cleansing, Caprivi style" allow me to point the following. Ethnic cleansing is not true but pack of lies, to discredit the organization and its leadership, spearheaded by the Namibian regime. History has it recorded that, such skeletons of ethnic cleansing exists in the Swapo government's backyard, ask them? Caprivians are not evil to contemplate such evil intentions.
Since the establishment of the struggle to liberate Caprivi in the 60s, Caprivians had been a united people. Both Subias and Mafwes were together in CANU and present UDP, pursuing the liberation of Motherland from those who oppressed her then and now- under the Namibian regime.
The Vice-President of the United Democratic Party is a SUBIA while the President is of MAFWE tribe, while under CANU the Vice- President was of MAFWE tribe and President a SUBIA; which clearly dismiss lies presented by the government of Namibia through their hired witness. This in real sense is but an instigation of civil war between the two main tribes in the region. This should be clearly understood, given the current tribal tension created or instigated by the Swapo government, to disturb peace in order to farther their agenda for divide and rule in the Caprivi. Swapo we are aware of your tactics, just tell the Caprivian people the truth and stop hiding behind Muyongo and the United Democratic Party-UDP, as another layer to your evil deeds in the Caprivi- Strip. Divide and rule is your master weapon, you cannot hide for your plans are visible and your mouthpiece shall not derail the ambitions of the Caprivian people to be free. Not even your mouthpiece fed with lies shall ever succeed, so please be brave to face the real truth about the Caprivi freedom question and stop dodging reality. Caprivians yawn for peace and prosperity which unfortunately you cannot provide them.
We are not surprised, that you continue to act or behave in this manner, to oppress the Caprivian people and turning them against their loved ones as a passport for your government presence in the region. We also know that the communist systems you represent and modeled after are the masters in the system of divide and rule, so are you!
Caprivians are not fools, to be subjected forever under your rule, we say no to your hideous crimes and oppressive rule. What have you done for us, so far? If not pain, marginalization and suffering, we deserve better as a people, than what you have subjected us too, for the past 15 years.
We remain united, as history records of our past and present situation despite your evil intentions to divide us against one another. Caprivians are one and of the same root, traditions and values; we are proud of who we are for this we shall cherish for ever regardless of instigations to separate us.
As Caprivians we stand united behind our leaders, to continue the struggle to free ourselves and our Motherland-Caprivi from this colonial brutal Communist system. We decide our future, so shall it be that Caprivians be free to determine their future once and for all. Governments come and go; yours won't be different, I remind you to remember yesterday, what do you see? Unfortunately, I'm asking an Ostrich to do so, nonetheless, tomorrow shall be different because you shall be required to answer to all injustices committed upon the Caprivian people, starting from the 60s until present. We shall seek justice where ever, we shall find it, to hold you accountable for your hideous crimes, murder and persecution committed against our people, in the name of unitarism and liberation.
You are not even ashamed, to take advantage of a suffering people but still lure them to your aid, with intention to advance your course. How could you, Cold blooded animals? Those witnesses are Caprivians, you have suffered and subjected since independence, though you recruit them to testify against their brothers you hold in your prisons and many that you forced in exile.
We understand their confusion, instigated by you, they shall tell it all given a fair platform, for your information we still love them; they are our blood and forever shall remain to be. We look forward to unite once this cloud has passed us over, and Caprivians are free and prosperous in their land. No more subjugation, fear, and discrimination nor tribalism, will exist again for you the evil one shall no longer be with us. This land is our land, remember this and pass it to your children and educate them, for we shall never relent in our activities to free ourselves. The court, suffering and everything you have done to us, are but stepping stones to glory. You cannot steal our pride and wisdom nor can you hinder us to achieve our freedom, you can try though but the WILL of the people shall prevail.
I don't need to mobilize my people, for we are already mobilized and need no more cultivation. We await the right moment and sign to exercise our "Will".
Motherland we love you, and vow to our Ancestors to fight to preserve our heritage and to strive for our prosperity, as we pass it to our progeny.

Concerned Caprivian

CAPRIVI -STRIP

Source: www.caprivifreedom.com
Support Caprivi Freedom
Fill out the form below to become a member of this site and receive our regular newsletter.