News and Information
---
World terror risk 'on the rise'
April 18, 2005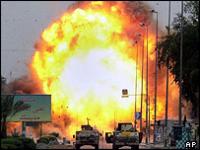 Car bombing in Baghdad, 14 April 2005
Iraq had far more attacks than any other country
Iraq is by far the most dangerous country to do business - but global terrorism is also making the rest of the world riskier, a new survey says.

Danger has risen in 31 nations, many of them in western Europe, insurance broker Aon says in a new risk map.

Former hot spots East Timor and Western Sahara were among just five places where risk levels went down in 2004.

Despite a lack of terror attacks in richer nations, the threat has not gone away, Aon warns.

Aon's map, published for the second year running, divides the world into five categories of risk - low, guarded, elevated, high and severe.

Since last year, Iraq has shot from fifth to first place in the rankings, with 2,922 terror incidents recorded in the 12 months to February 2005.

Other countries where the risk is considered severe include India, Pakistan, Israel and the Palestinian territories, Saudi Arabia and Colombia. They are joined by Nepal and Somalia, which have been upgraded to the worst category since the 2004 survey.

'Extremist activity'

A number of countries - including the UK, Germany, Belgium, the Netherlands, Australia, Egypt and Ivory Coast - have been moved from "guarded" to "elevated".


The onus is on us to remain vigilant, so that the threat doesn't escalate
Rob Preston,
Aon terrorism risk consultant

Other western European nations, including the Czech Republic and Denmark, have also moved up a grade and now face a "guarded" level of risk.

"Increased extremist activity" by Islamist groups and anti-Western sentiment against countries that supported the US-led coalition in Iraq are the main reason for the higher risk levels, Aon says.

Rob Preston, a terrorism risk consultant for Aon, told the BBC News website that because of a lack of attacks, many people in developed nations were becoming "fatigued with the message" that the threat of terrorism remained.

"Terrorists have patience beyond that which we're capable of. The onus is on us to remain vigilant, so that the threat doesn't escalate," he said.

"I think there's plenty of evidence to suggest that the danger exists and that it's increased."

However, a handful of countries have become safer. Cyprus has fallen from "high" to "elevated", because its proximity to the Middle East has encouraged tighter counter-terrorism measures.

East Timor, Burkina Faso and the Central African Republic have all gone from "guarded" to "low", while Western Sahara has declined to "guarded".
Source: www.bbc.com
http://news.bbc.co.uk/2/hi/business/4457705.stm
Support Caprivi Freedom
Fill out the form below to become a member of this site and receive our regular newsletter.