News and Information
---
Politician Laments Water Problem ... Despite Rivers
April 12, 2005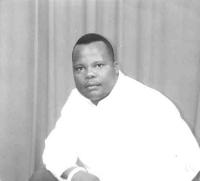 2005-04-12

VOCAL: Businessman-cum-politician Felix Mukupi, the regional councillor for Sibbinda constituency, who recently addressed a wide variety of developmental issues when he was interviewed by New Era at Katima Mulilo.
By Chrispin Inambao
KATIMA MULILO
THOUSANDS of peasant farmers in Sibbinda constituency in the Caprivi have to contend with a crippling water crisis resulting from an obsolete, colonial-era water infrastructure such as malfunctioning boreholes that have outlived their life span.
Felix Mukupi, a businessman-cum-politician, says water is a serious problem in his constituency where he was elected to represent the ruling Swapo Party.
He says it is quite an irony that Sibbinda, like other constituencies despite being located in the vicinity of the Mashi, the Linyanti and even the Zambezi river in the east, still has chronic water shortages.
In a recent interview at Katima Mulilo, the politician suggested that this long-standing problem could only be addressed effectively once water pipelines are installed from the Zambezi river.
The water problem in the constituency is also attributed to the fact that some solar panels that power water pumps are defective and no longer functional.
Another contributing factor is the direct consequence of water pipes that are leaky as a result of aging. "I appeal to President Pohamba to look into this issue as a matter of urgency because the electorate, the people who voted us into power, are suffering.
"If these people would die as a result of thirst, no one would vote for us when it is election time. In fact, this problem should not exist because we have a number of perennial streams and rivers such as the Zambezi," he said.
"We want a pipeline to be installed from the Zambezi river to our constituency," suggested the businessman-cum-politician. He says that since some livestock losses have also been experienced as a result of this persistent problem, villagers who generate money to pay for school fees and to settle their medical bills, among other expenses, are being deprived of their main source of income when their livestock die due to a lack of water.
Mukupi further appealed to the government humanitarian agency the Emergency Management Unit (EMU) to undertake a fact-finding mission to the region so that it can make an informed decision on the drought situation.
"We want beans, mealie meal, cooking oil, sugar and other drought food for our people because they overwhelmingly voted for us," stated he. The politician noted that granaries and other traditional grain storage facilities are empty.
The Likwama Farmers Co-operative Union, an entity that represents peasants in the Caprivi, also recently said thousands of people in the region would expect drought relief food because of a massive crop failure brought about by erratic rains.
In a wide-ranging interview, he also said the road between Katima Mulilo and Linyanti up to Lianshulu should be tarred, saying it is of strategic importance as a result of being used by villagers and even tourists who flock to that area to view game such as hippo, crocodiles, elephants and buffalo that are in abundance in that area.
Several lives have also been lost in fatal road accidents because of the poor state of this particular stretch of gravel road while trucks transporting supplies normally get stuck on the road and have to be towed by other vehicles. He noted that several schools also need teachers in a number of science subjects.
Many schools have to depend on expatriate teachers from Zambia and Zimbabwe because there appears to be a shortage of teachers specialising in these particular subjects, he said. Basic computer classes also need to be introduced at these institutions of learning.
Meanwhile, the outspoken politician has appealed to some politicians who fail to woo voters to accept defeat without resorting to other undemocratic ways and means.
He was making reference to a recent article that appeared in the "Caprivi Vision" newspaper, allegedly penned by an exiled politician who appealed to residents of the region and those in exile to stage another rebellion against the Swapo-led government.
Mukupi says residents of the region should not be misled as this would not count in their favour. "Politicians who fail should accept defeat," said Mukupi.
Source: www.newera.com.na
http://www.newera.com.na/page.php?id=23
Support Caprivi Freedom
Fill out the form below to become a member of this site and receive our regular newsletter.