News and Information
---
Chief Foils 'Palace Coup'
April 12, 2005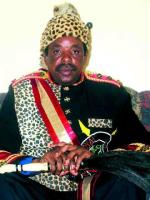 2005-04-12

TARGETTED: Dressed in royal garb complete with a flywhisk is Chief Kisco Maiba Liswani II1 pictured a few days ago at his palace at Bukalo. The tribal seat is located some 40 km outside Katima Mulilo, the regional capital.
By Chrispin Inambao
KATIMA MULILO
A CABAL of government officials working clandestinely with some power-hungry individuals from a royal house recently engineered a plot to dethrone Chief Kisco Maiba Liswani III of the Masubia tribe in the Caprivi, who thwarted the plot.
The plotters, among them a handful of disenchanted senior and junior traditional councillors axed from their positions by the chief, planned a noisy street protest whereby they would have amplified a host of grievances against their leader.
A secondary school principal, an inspector of schools and others are implicated in the foiled plot that compelled the traditional authority at Bukalo to formulate a raft of charges among them one of gross insubordination.
The plotters are also said to have written a letter whose content was apparently insulting, injurious and even ridiculed the chief and his entire khuta or tribal authority. The offending letter outlining the plot was "leaked" to the chief by a loyal subject.
In a recent interview held at Bukalo, his tribal seat, Chief Liswani III confirmed the "rebellion" and vowed to haul the dissenters before a tribal court that would in all likelihood impose a hefty fine if the suspects are convicted of the allegations.
Liswani III told New Era that he removed the four councillors after he consulted extensively with some members of the royal family and after consultations with members of his tribe.
"We removed them for gross misconduct and for influencing some teachers. But we are now traditionally dealing with the teachers and others. They simply have to answer for this misconduct," explained the former policeman (Chief Liswani III).
He insists it is his prerogative to appoint people who are loyal and in the same vein to axe those who are disloyal in line with the Traditional Authorities Act of 2000.
With regard to the appointment of senior traditional councillors, a chief is vested with powers to appoint from amongst the members of his or her traditional community or cause to be elected by such members from amongst their number. The Act further stipulates that such councillors shall be removed from office in accordance with the customary law of each traditional authority.
The councillors who fell out of the chief's favour include Induna Alfred Lifu-mbela from Kalimbeza, who was axed in March. Those axed on April 04 are Induna Robert Kabozu Mwilima from Mahundu, Induna Mu-mbuwa Shakanda Mayuni from Nakabolelwa and In-duna Magwaza Sinvula from the Muyako area.
Induna Lifumbela is alleged to have instigated some individuals to write the said offending letter advocating for the dethroning of the chief and apparently "discrediting" him.
Despite the said "rebellion", New Era understands the chief has the overwhelming support of the communities where the axed councillors come from. These communities have also apparently disassociated themselves from the attempted palace coup and they have reaffirmed their allegiance to their chief. Senior councillors from Ngoma, Kasika, Ikaba, Kabu-labula, Nsundwa, Schuck-mannsburg, Lusese, Kabbe, Bukalo and Ikumwe have also distanced themselves from the plotters.
The chief believes the axed councillors were influenced by some power-hungry people in the royal family who are eyeing his position and intend to dethrone him.
Chief Liswani III is also concerned that some people implicated in the thwarted plot were quoted as having said he together with his second-in-command Ngambela Crispin Katukula will not "last" until June/July. He however insists those implicated in the plot would be "tried in accordance with our customary law".
Ngambela Katukula, who was present during the interview at the chief's palace at Bukalo said the alleged plot against the tribal authority is indeed a "felony" because of its seriousness and magnitude.
The chief has since written a letter to the Ministry of Regional and Local Government, Housing and Rural Development. The Deputy Minister at Regional and Local Government, Kazenambo Kazenambo has confirmed receipt of such a letter but he says since it was addressed to the minister who is out of town on an official mission, it will be "inappropriate" for him to comment on the matter, as it was initially addressed to the former minister.
New Era could not contact the concerned officials because their case is sub judice as they still have to appear before the tribal court where they are expected to defend themselves.
The chief was chosen by an inner royal circle to take over the Masubia chieftain-ship when his elder brother Chief Joshua Moraliswani died several years ago.
Source: www.newera.com.na
http://www.newera.com.na/page.php?id=24
Support Caprivi Freedom
Fill out the form below to become a member of this site and receive our regular newsletter.