News and Information
---
'No survivors' in US Afghan crash
April 6, 2005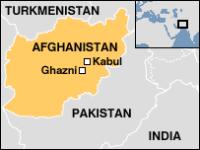 A US Chinook helicopter has crashed in south-eastern Afghanistan killing 16 people, at least four of them American crew, officials have said.

The CH-47 helicopter went down in bad weather in the province of Ghazni, a US military statement confirmed.

The statement said there appeared to be no survivors, and two remained missing.

It was the eighth and worst air crash suffered by US forces in Afghanistan since they toppled the Taleban at the end of 2001.

The helicopter was one of two Chinooks flying to the main US base at Bagram, north of Kabul, from a routine mission in southern Afghanistan.

The second helicopter arrived safely at Bagram airfield.

"Indications are it was bad weather and that there were no survivors," Lt Cindy Moore told the Associated Press.


CHINOOK CH-47
A US Chinook CH-47 helicopter lands to pick up troops in Afghanistan
Twin-engined aircraft with two, three-bladed rotors
Used to move soldiers, weapons and supplies
Can carry 54 troops or 25,000 lbs (11,340 kg) of freight - more than its own weight
Crew of four

Fact file: Chinook
The seven previous accidents claimed 21 lives.

The identity of the passengers killed on Wednesday is still unclear.

"Eighteen people, including crew members and passengers, were listed on the flight manifest; two remain unaccounted for," a US military statement said.

Four US crew were confirmed dead, and Afghan police sources told the Associated Press that the remaining 14 on board were also American.

Ghazni governor Assadullah Khalid told Reuters news agency that local officials had recovered two bodies from the crash site.

"We recovered two American soldiers' bodies and now American forces are in control of the situation. The chopper was burning when we were there," he said.

Helicopters from the Bagram base have been used as part of a US offensive against suspected al-Qaeda and Taleban members in remote areas of the country.
Source: www.bbc.com
http://news.bbc.co.uk/2/hi/south_asia/4416683.stm
Support Caprivi Freedom
Fill out the form below to become a member of this site and receive our regular newsletter.