News and Information
---
Cuba has 'surprise' Pope mourning
April 4, 2005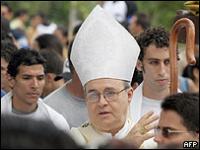 By Stephen Gibbs
BBC News, Havana

Cuban Cardinal Jaime Ortega
Cardinal Jaime Ortega led public services in Havana
Cuba has begun three days of national mourning to mark the death of Pope John Paul II.

Flags in the communist state, which until 1992 was officially atheist, are being flown at half-mast.

Play-offs in the national baseball league have been postponed and many bars are closed.

President Fidel Castro sent his written condolences to the Vatican, recalling what he said were fond memories of the Pope's visit to Cuba in 1998.

Cuba's communist-led government surprised some by encouraging the population to reflect on the life of John Paul II.

'Solidarity'

Cardinal Jaime Ortega, the most senior Roman Catholic clergyman in Cuba, admits to have been a little taken aback by the Cuban government's attitude to the Pope's passing.

Pope John Paul II with Fidel Castro
The Cuban government has had an uneasy relationship with the Church
"Is it a sign of special solidarity in this moment," he said.

"We have no fiestas. It is very interesting. It is a beautiful sign for us."

But plenty of delicate tensions do remain between the Cuban government and the Catholic Church.

The Church in Cuba, for example, is not allowed to run its own schools or access state media, as it would like.

It is certainly not permitted to appear as a rival institution to the Cuban revolution.

Some differences might be forgotten in these days of remembrance for the late Pope but they have not gone away.
Source: www.bbc.com
http://news.bbc.co.uk/2/hi/americas/4408197.stm
Support Caprivi Freedom
Fill out the form below to become a member of this site and receive our regular newsletter.