News and Information
---
Bush gives Annan cautious backing
March 30, 2005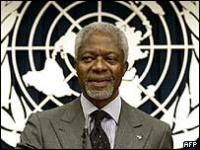 UN Secretary General Kofi Annan speaks after the report
The report said Mr Annan was mislead by his son
The White House has voiced cautious support for the UN Secretary General after a report cleared him of corruption charges involving his son.

But a spokesman said it considered the allegations "a very serious matter".

The US administration said it would back Kofi Annan's pledge to use the report's findings to reform the UN.

Kofi Annan did not help the company his son worked for get a lucrative contact in Iraq, the report found.

But it criticised Mr Annan for failing to look into the possibility of a conflict of interest.

"This is a very serious matter - we have stated that repeatedly," White House spokesman Scott McClellan said.

"Congress has been looking into it as well. We continue to support Secretary General Annan in his work at the United Nations."

African support

African Union Chief Alpha Oumar Konare said the AU stood by Mr Annan - who should not be targeted for what his son "may have or may not have done".

"The campaign to besmirch the name of one of the great sons of Africa must be stopped immediately."

China and Portugal were also among the first countries to voice their satisfaction over the outcome of the inquiry.


I have lots of work to do and I am going to go ahead and do it
Kofi Annan

But US Senator Norm Coleman, a major critic of the UN, urged the secretary general to step down.

"His lack of leadership combined with conflicts of interest and a lack of responsibility and accountability point to one, and only one, outcome: his resignation," he said.

The UN leader earlier said he was happy with the findings of the interim report and brushed aside a reporter's question about whether he would resign with the words: "Hell, no.

"I have lots of work to do and I am going to go ahead and do it," he said.

But many questions remain unanswered, and more criticism of the world body and its leader are likely to follow.

The Swiss firm Cotecna was hired by the UN in 1998 to monitor the oil-for-food programme.

The report revealed that Mr Annan's son Kojo, who was already working for Cotecna, did not terminate his employment with the firm after the contract was granted.

But he did not tell his father, who in his turn failed to look into the potential conflict of interest.

Nonetheless, the inquiry found "no evidence" that the secretary general had influenced the bidding or selection process.
Source: www.bbc.com
http://news.bbc.co.uk/2/hi/americas/4393093.stm
Support Caprivi Freedom
Fill out the form below to become a member of this site and receive our regular newsletter.