News and Information
---
Splits paralyse Iraqi parliament
March 29, 2005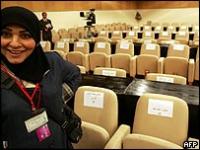 Preparations for Iraq's National Assembly
Arguments over government posts have delayed forming a cabinet
The Iraqi parliament's second-only session broke up in acrimony as MPs lashed out at political leaders for their failure to form a government.

Initially the meeting was delayed for hours as Shia, Kurdish and Sunni Arab leaders haggled over who would fill the position of parliamentary speaker.

Then officials ordered a ban on media coverage when criticism started being voiced over the intercommunal deadlock.

Parliament is due to reconvene on Sunday to try again to name a speaker.

It was an embarrassing day for Iraq's newly-elected politicians, says BBC Baghdad correspondent Caroline Hawley.

There is growing frustration over delays in forming a government after millions if Iraqis defied the threat of insurgent violence to vote at the end of January.

Delays

Tuesday's session was meant to show that progress was being made, but has instead exposed tensions in the newly-formed 275-seat parliament.

Proceedings were held up for three hours as Shia, Kurdish and Sunni Arab members tried to agree on a Sunni Arab candidate to be speaker, as promised before the session.

The Shia are pushing for the appointment of Fawaz Jarba, who is a member of the Shia-dominated United Iraqi Alliance, which won the elections.

Security guards stopping traffic in the streets of Baghdad
Security is tight in Baghdad to try to prevent insurgent attacks
Kurdish deputies are said to favour another candidate, while Sunni Arab MPs and those not represented in parliament are split over they want.

Interim President Ghazi Yawer has been put forward as a compromise candidate, but he has turned down the position.

"We demand to know the details of what's happening behind the scenes!" one female MP shouted before TV feeds of Monday's session were cut.

During the heated debate interim Prime Minister Iyad Allawi stormed out of the session, followed by Mr Yawer.

A parliament speaker is needed before MPs can begin discussions about the formation of the presidency council which will appoint the key position of prime minister.

Control

The appointment of a Sunni Arab is meant as a gesture to that minority which largely boycotted the elections, having held sway over Iraq during Saddam Hussein's regime.

Iraq's fragmented political scene has been beset by further divisions over Sunni power, the role of religion and jockeying for Cabinet posts.

The Kurds are expected to retain the foreign ministry and Sunni Arabs to get the defence ministry.

But control of the oil ministry has proved a major sticking point between the Shia - representing the majority of Iraqis - and the Kurds.

As the deadlock continued, insurgents have pursued their campaign of violence to destabilise the new Iraq taking shape under US-led occupation.

Three Romanian journalists went missing on Monday, and are feared kidnapped.

At least one person was killed and 17 others were wounded in a massive car bombing targeting a Kurdish official in the northern city of Kirkuk on Tuesday, police said.

A top oil official escaped assassination when his convoy was targeted by a car bomb in the southern city of Basra.
Source: www.bbc.com
http://news.bbc.co.uk/2/hi/middle_east/4388919.stm
Support Caprivi Freedom
Fill out the form below to become a member of this site and receive our regular newsletter.