News and Information
---
Annan cleared over oil-for-food
March 29, 2005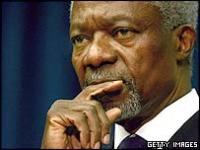 UN Secretary General Kofi Annan
The report is critical of Annan's alleged oversight of the programme
A report has cleared UN Secretary General Kofi Annan of wrongdoing over an Iraq oil deal involving his son but queries his handling of the affair.

The UN inquiry led by former US Federal Reserve chairman Paul Volcker was tasked with examining the UN's oil-for-food programme for Iraq.

It found insufficient evidence to show Mr Annan was aware of his son Kojo's work with Swiss contractor Cotecna.

But the interim report faulted him over an "inadequate" inquiry into the case.

The report by the independent inquiry was read out by Mr Volcker himself at the UN in New York.

"There is no evidence that the selection of Cotecna in 1998 was subject to any affirmative or improper influence of the secretary-general in the bidding or selection process," according to the document.

Cotecna was hired by the UN to verify goods coming into Iraq.

Kojo Annan, who was a trainee with the firm from 1995 to 1998, continued to be paid a $2,500 monthly salary until February 2004, Reuters news agency reports.

French support

The report comes at a delicate time for the UN and its secretary general.


Second interim report into oil-for-food programme (3.65 MB)
Most computers will open PDF documents automatically, but you may need to download Adobe Acrobat Reader.
Download and install the reader here

Last week Mr Annan announced plans for the largest reform of the organisation in its 60-year history.

And allegations of sexual abuse by UN peacekeepers and financial mismanagement by senior staff have tarnished the reputation of the global watchdog.

France earlier backed Mr Annan, offering him "full support".

The oil-for-food programme allowed Saddam Hussein to trade oil for civilian goods during the UN-imposed sanctions regime of the 1990s.

Documents released since the US-led invasion deposed Saddam in 2003 have revealed a string of high-ranking officials and political groups offered bribes and vouchers by Saddam Hussein's regime.
Source: www.bbc.com
http://news.bbc.co.uk/2/hi/americas/4391031.stm
Support Caprivi Freedom
Fill out the form below to become a member of this site and receive our regular newsletter.