News and Information
---
Mugabe criticises MDC 'traitors'
March 29, 2005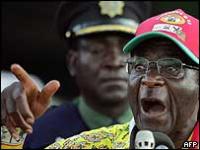 President Robert Mugabe
Mugabe is under pressure not to rig these elections
President Robert Mugabe has condemned Zimbabwean opposition supporters as traitors, as parliamentary election campaigning enters its final phase.

Opposition leader Morgan Tsvangirai was "a black man with white blood" and his supporters were "sell-outs", state media quoted Mr Mugabe as saying.

Election officials say conditions are peaceful ahead of Thursday's vote.

The opposition concedes that levels of violence are down but says Thursday's elections will not be free and fair.

"All those who will vote for the Movement for Democratic Change are traitors," Mr Mugabe said at a ruling party rally in Mutoko, north-east of Harare.

Warning

Police have warned government and opposition supporters that they will not tolerate any violence on election day. "This condition is non-negotiable," said police spokesman Wayne Bvudzijena.

But opposition leaders say tough media and security laws and intimidation mean the election remains heavily skewed towards the ruling Zanu-PF party.

International human rights groups have also raised concerns about the climate of fear and intimidation in the run-up to the vote.

Violence

Meanwhile, local human rights groups have released a report confirming that levels of violence are far lower than previous elections over the past five years.

Supporters of the Movement for Democratic Change party rally in Harare

Campaign in pictures
Q&A: Does the election matter?

"There is general peace and tranquillity throughout the provinces," chairman of the elections supervisory commission, Theophilus Gambe, said on Tuesday.

Pressure from regional countries is seen as having contributed to a drop in incidents of political violence.

The government has promised a fair vote in Thursday's general elections and is thought to be keen to gain legitimacy after heavily criticised polls in 2000 and 2002.

The head of South Africa's observers - the largest foreign delegation invited to watch the election - reports relatively smooth progress but say they have had to step in to prevent political clashes.

More than 1,000 Zimbabweans held a mock vote in South Africa's capital, Pretoria, to protest at their exclusion from the polls.

The elections are the last to be held before President Mugabe is due to retire in 2008.
Source: www.bbc.com
http://news.bbc.co.uk/2/hi/africa/4391087.stm
Support Caprivi Freedom
Fill out the form below to become a member of this site and receive our regular newsletter.