News and Information
---
Easter roads horror
March 29, 2005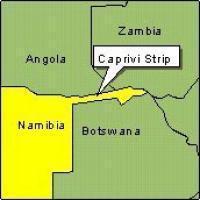 WERNER MENGES and MAGGI BARNARD

Treason prosecutor among the fatalities.

A BLACK Easter on Namibia's roads claimed more than a dozen lives this weekend.

The Easter vacation drew to a close yesterday with reports that a horror head-on collision had claimed four lives on the road between Otjiwarongo and Otavi yesterday afternoon.

One of those killed was a Public Prosecutor in the Caprivi high treason trial in the High Court at Grootfontein, Corelie Barnard.

Her two colleagues on the prosecution team, Deputy Prosecutors General Herman January and Taswald July, were seriously injured.

Also killed in the accident were three occupants of the car that collided head-on with Barnard's vehicle.

Barnard and her colleagues were travelling to Grootfontein for the continuation of the treason trial today.

According to an eyewitness, the vehicle that crashed into Barnard's vehicle was overtaking another car when it slammed into the prosecutors' Volkswagen Golf.

Barnard was 30 years old.

She was unmarried.

The Police were unable to release the names of the other victims of the accident yesterday.

Weekend traffic also took a terrible toll on the road between Kalkrand and Rehoboth on Saturday, when a freak accident involving a heavy truck loaded with a block of solid marble claimed seven lives.

At least two children, aged seven and nine, died in that accident.

A block of marble reportedly flattened their car after it had fallen off a truck that was apparently trying to avoid a head-on crash with the car in which the children were travelling.

The truck driver and co-driver were also killed, as were another three people in the Nissan 1400 bakkie onto which the block of rock fell.

A Police spokesperson, Chief Inspector Angula Amulungu, said yesterday that according to information relayed to him the accident took place some 12 kilometres north of Kalkrand when a truck apparently tried to overtake a lorry.

One of the trucks swerved to avoid hitting an oncoming car, hit the other truck and overturned, dropping its heavy load in the process.

The truck driver, Gerson Kauzunda (41), and his co-driver, Benjamin Michael (24), were killed, as were five people in the small bakkie.

Amulungu identified them as Dene Louw (9), Renchia Mountazinger (20), Ecgar Mountazinger (7), another member of the Mountazinger family, whose first name the officer did not have available, and Dimitri Junius.

A third fatal accident on Friday claimed the life of a 19-year-old man, whose name Amulungu reported as Vinceno Heinrich Pieters.

The accident took place on the gravel road to Solitaire, about 120 km from Walvis Bay.

The driver of a vehicle carrying five people from Walvis Bay lost control of the car, which then overturned.

Pieters and one other person were seriously injured, and were taken to hospital in Walvis Bay and later to Windhoek.

Pieters died shortly after arriving in Windhoek.

The other three occupants of the car were slightly injured.

City traffic also proved to be deadly for a motorcyclist in Windhoek on Sunday.

The biker died in a hospital in the capital after he had crashed into a car on the intersection of Robert Mugabe and Luther Street, Amulungu reported.

He could not release the motorcyclist's name yesterday, as the Police were still trying to contact his family.

The Namibia Press Agency (Nampa) reported that 36-year-old Festus Shikwambi died at Okahao in northern Namibia after both front tyres of a vehicle in which he was travelling burst, causing the driver to lose control and overturn the car at about 09h30 yesterday.

The weekend's road carnage did not spare pedestrians either.

On Sunday, pedestrian Petrus Jacobus died instantly when he was hit by a truck at the intersection of the Mariental-Gibeon-Hardap roads, Amulungu reported.

Jacobus was 40 years old.

Traffic from the coast was heavy yesterday as people returned home after the long weekend.

By 10h00, an average of 412 vehicles per hour were counted driving inland, while 44 vehicles per hour were driving to the coast.
Source: www.namibian.com.na
http://www.namibian.com.na/
Support Caprivi Freedom
Fill out the form below to become a member of this site and receive our regular newsletter.