News and Information
---
Immigration Infringing On People's Rights - HRC
March 28, 2005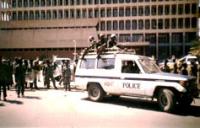 The Times of Zambia (Ndola)

March 27, 2005
Posted to the web March 28, 2005

THE Human Rights Commission (HRC) has condemned the recent rounding up of the prohibited immigrants by the immigration department and called for immediate amendment of the Immigration and Deportation Act.

HRC chairperson, Mumba Malila, said the continued ill-treatment of both Zambians and foreigners was an infringement on the people's human rights and called on the department to find ways of dealing with problems other than subjecting them to such inhuman treatment.
http://www.oracle.com/go/?&Src=3188850&Act=19

Mr Malila said in Lusaka at the weekend that currently, there was no law that required people to be moving around with identity cards and that the commission would not sit back and watch the rights of the public being violated.

Mr Malila said HRC was not against the department carrying out their duties but that it was against the manner in which the exercise was conducted and called on the department to tighten security at border areas to prevent aliens from entering the country.

He said the commission was aware that some of the people who were picked up during the operation were Zambians who were mistaken to be foreigners.

"We are not happy with the way the department is handling the issue of illegal immigrants in this country and it is for this reason that we feel the Immigration and Deportation Act should be re-looked at to avoid infringing on the rights of members of the public," he said.

He warned against treating suspected immigrants as though they were guilty and reminded the department of Zambia being a signatory to a number of human rights conventions that should be respected and observed by all law enforcement agencies.
Relevant Links
Southern Africa
Zambia
Legal and Judicial Affairs
Human Rights

Last week, the department rounded up illegal immigrants in Lusaka and Ndola and maintained that the exercise was ongoing.

Immigration public relations officer, Mulako Mbangweta, said most of those arrested did not have relevant papers except temporary visit permits while others were staying in the country illegally.
Source: www.allafrica.com
http://allafrica.com/stories/200503280520.html
Support Caprivi Freedom
Fill out the form below to become a member of this site and receive our regular newsletter.