News and Information
---
Indian Ocean quake causes panic
March 28, 2005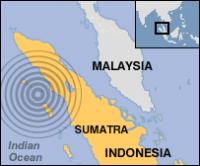 A major earthquake in the Indian Ocean has hit the coast of the Indonesian island of Sumatra, just over three months after last year's tsunami.

It struck just before midnight local time, with an estimated magnitude of 8.2, and caused widespread panic.

But three hours after the tremor, officials across the region said fears of another major tsunami were receding.

There were unconfirmed reports of dozens killed by the tremor on the Indonesian island of Nias.

The quake struck between the Sumatran cities of Padang and Medan at around 2315 local time (1615 GMT) and lasted up to three minutes, according to Indonesia's Meteorological and Geophysics Office.


I thought I was hallucinating at first, but then I heard my neighbours screaming and running out
Jessie Chong
Kuala Lumpur resident

Your comments

Its epicentre was located at about 200km (125 miles) off the Sumatran mainland.

Most people were in bed at the time and there were no immediate reports of damage, says the BBC's Tim Johnstone in the Indonesian capital, Jakarta.

Reports from Banda Aceh say thousands came out into the streets, fearful of collapsing houses, while an official quoted by Reuters news agency spoke of "dozens" killed on the island of Nias.

Communications were swamped, although some mobile phone messages were getting through.

'Neighbours screaming'

The 26 December tsunami caused major damage and killed tens of thousands of people in states across the region.

People leave a coastal hotel in Thailand
People in the region have been leaving coastal areas

Russ Evans, a seismologist from the British Geological Survey, told the BBC that Monday's tremor quake was almost certainly an after-shock of the earlier quake, which had a magnitude of 9.

The quake was felt across the region with people in the Malaysian capital, Kuala Lumpur, some 500km away, evacuating high-rise buildings and running out into the streets.

"I was getting ready for bed, and suddenly, the room started shaking," said Kuala Lumpur resident Jessie Chong.

"I thought I was hallucinating at first, but then I heard my neighbours screaming and running out."

Thailand and India, badly hit by the 26 December disaster, issued tsunami alerts while Sri Lanka evacuated coastal areas.

However, Thai officials later told local television the threat of a tsunami appeared to have passed.

Indonesian and Indian officials echoed the comments, saying there were no reports of a tsunami developing.
Source: www.bbc.com
http://news.bbc.co.uk/2/hi/asia-pacific/4388579.stm
Support Caprivi Freedom
Fill out the form below to become a member of this site and receive our regular newsletter.