News and Information
---
Satellite launched on spacewalk
March 28, 2005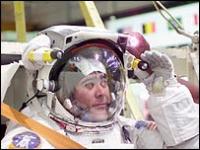 Salizhan Sharipov, Nasa/JPL
Salizhan Sharipov: 165 days in orbit
Two astronauts have installed three new antennas on the International Space Station (ISS) and released a mini-satellite during a spacewalk.

US astronaut Leroy Chiao and his Russian colleague Salizhan Sharipov left the ISS empty for the second time in two months during the procedure.

The Nanosputnik mini-satellite, 30cm (1ft) long and weighing 5kg (11lb), was hurled into space by Sharipov.

The antennas will allow a new European cargo vehicle to dock.

The new craft, known as the Automated Transfer Vehicle (ATV), is bigger than Russia's Progress craft. It will begin journeys to the ISS next year.

Technical problems

The US space agency (Nasa) and the Russian space agency tightened safety procedures this time after a problem with the station's stabilisers arose two weeks ago.

One of the platform's gyroscopes, needed for positioning, lost power during the astronauts' last spacewalk, leaving only the minimum two gyroscopes still functioning.

Visiting shuttle astronauts are expected to fix the electric circuit-breaker in two months' time.

Since 2003, the ISS has had a crew of only two at a time - one fewer than usual - because the US space shuttles remain grounded. Russian craft have kept the ISS going.

There is no one inside the ISS to monitor its systems during spacewalks.
Source: www.bbc.com
http://news.bbc.co.uk/2/hi/science/nature/4387413.stm
Support Caprivi Freedom
Fill out the form below to become a member of this site and receive our regular newsletter.