News and Information
---
Zimbabwe condemns 'liar' cleric
March 28, 2005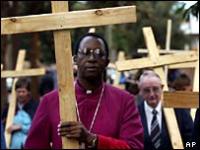 Archbishop Pius Ncube in a Good Friday procession
Archbishop Ncube is a long-time critic of the government
Zimbabwe has called one of its leading clerics an "inveterate liar", after he called for a peaceful uprising against President Robert Mugabe.

A spokesman for the ruling Zanu-PF party said Archbishop Pius Ncube was promoting "wild ideas" for governments wanting to overthrow Mr Mugabe.

The cleric said Mr Mugabe had fixed upcoming election results and withheld aid from opposition supporters.

The government has promised a fair vote in Thursday's general elections.

But international human rights groups have already raised concerns about a climate of fear and intimidation in the run-up to the vote.


People should pluck up just a bit of courage and stand up against him and chase him away
Archbishop Pius Ncube

Q&A: Does the election matter?

Zanu-PF spokesman Nathan Shamuyarira told Zimbabwe's Herald newspaper that the government would produce evidence to disprove allegations that it was deliberately preventing food from supporters of the opposition Movement for Democratic Change (MDC).

"[Archbishop Ncube] is a mad, inveterate liar. He has been lying for the past two years. As an Archbishop, we expect him to tell the truth," he said.

"He, however, fits into the scheme of the British and Americans, who are calling for regime change and are feeding him with these wild ideas," he added.

'Too soft'

The opposition has complained that Thursday's elections will not be free and fair.

In a series of media interviews, Archbishop Ncube said the parliamentary ballot had already been fixed to ensure the Zanu-PF party won.

Mr Ncube - the archbishop of Zimbabwe's second city, Bulawayo - insisted he was not advocating violence, but simply backing a peaceful uprising like that in Ukraine last year.

Speaking to the Johannesburg-based Sunday Independent newspaper, he said: "I hope that people get so disillusioned that they really organise against the government and kick him out by a non-violent, popular, mass uprising."

"Because as it is, people have been too soft with this government. So people should pluck up just a bit of courage and stand up against him and chase him away."

The opposition needed to produce "a strong leadership" if Mr Mugabe, who has led Zimbabwe since 1980, was to be challenged, he added.
Source: www.bbc.com
http://news.bbc.co.uk/2/hi/africa/4387601.stm
Support Caprivi Freedom
Fill out the form below to become a member of this site and receive our regular newsletter.