News and Information
---
Straw hits back in Iraq law row
March 24, 2005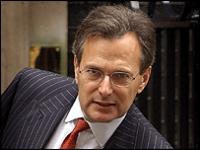 Lord Goldsmith
Lord Goldsmith gave his "independent" view
Foreign Secretary Jack Straw has mounted a robust defence of Attorney General Lord Goldsmith's advice on the legality of the Iraq war.

He was forced to face MPs' questions after a Foreign Office lawyer's resignation letter was published.

Critics say the letter shows Lord Goldsmith initially thought invasion was illegal without new UN backing but changed his mind on the eve of war.

Mr Straw said the letter showed nothing of the kind.

The revelations came in a censored part of ex-Foreign Office lawyer Elizabeth Wilmshurst's letter, obtained by Channel 4 News.


TIMETABLE
Before 7 March: Lord Goldsmith believed war not legal without new UN resolution, claims Elizabeth Wilmshurst
7 March: Lord Goldsmith tells Tony Blair it would be safer to have second resolution
17 March: Parliamentary answer from Lord Goldsmith says war legal without new resolution
18 March: Tony Blair makes case for war ahead of MPs voting for military action
20 March: Invasion of Iraq begins

In full: Wilmshurst letter

It suggests Lord Goldsmith originally believed a new UN resolution was needed to make the war legal.

But he reportedly wrote an equivocal letter to Tony Blair on 7 March saying the war might be illegal and it was safer to get a new resolution.

And on 17 March he said the invasion was legal under previous UN resolution, with no new agreement needed.

'Paper trail'

Ms Wilmshurst quit two days before the war because she believed the invasion was a "crime of aggression". Her resignation letter sparked Thursday's urgent Commons question from Conservative spokesman Dominic Grieve.

Mr Grieve told MPs: "It would be far better if the entire paper trail were to be published to reassure the public the attorney general was neither leant on to change his views for party political reasons, nor deceived by the prime minister on the facts on which war might be justified."


There was no requirement whatever for a second resolution
Jack Straw
Foreign Secretary

But Mr Straw said it would be "grave" for government if attorney generals' advice had to be published.

No MPs had argued for law officers' advice to be covered by freedom of information laws.

'Smokescreen'

Mr Straw accused the Tories of a "tendentious claim" in saying that Ms Wilmshurst's letter showed Lord Goldsmith had changed his mind.

"It did nothing of the kind," he told MPs.

What did change was that it became clear the UN would not agree a new resolution, he said.

But he insisted Lord Goldsmith had come to his genuine, independent view that did not need a fresh agreement.

"There was no requirement whatever for a second resolution but we were seeking a second resolution because we sought a consensus of the Security Council," said Mr Straw.

He accused the Tories of trying to use the issue as a "smokescreen to avoid their own responsibility for the fact they voted for this military action".

'Huge questions'

Liberal Democrat leader Charles Kennedy said the government had "huge questions" to answer.

He urged the government to publish the attorney-general's full legal advice on the war - "and if necessary be damned".

Such a move would improve the "quality of debate in the forthcoming general election," Mr Kennedy added.

Ex-Foreign Secretary Robin Cook urged ministers to clear up the "running sore" and suggested possible MPs might not have voted for war had they known of Ms Wilmshurst's concerns.

"It is very difficult to avoid the conclusion that what changed... was the discovery that we were not going to get the second resolution," said Mr Cook.
Source: www.bbc.com
http://news.bbc.co.uk/2/hi/uk_news/politics/4379381.stm
Support Caprivi Freedom
Fill out the form below to become a member of this site and receive our regular newsletter.