News and Information
---
US presses Lebanon over election
March 24, 2005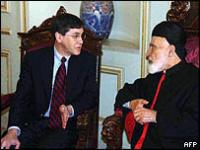 David Satterfield talking to Maronite patriarch during a previous visit
Satterfield is on his second trip to Lebanon since the Hariri killing
The US has called on Lebanon to hold general elections on time - with international monitors present - despite a growing political crisis.

Elections were needed to create a "different political environment", senior US envoy David Satterfield said.

Washington is an important ally of opposition groups campaigning for an end to Syrian influence over Lebanon.

But US pressure on the government has prompted resentment among loyalists who say Washington is not impartial.


Elections must move forward - free and fair elections in the presence of international observers - in their scheduled time
David Satterfield
Deputy Assistant Secretary of State Satterfield is on his second visit to Lebanon since the bombing that killed former PM Rafik Hariri on 14 February.

His meetings have mainly focused on opposition figures, sparking rumours that he is coming to help the opposition topple pro-Syrian authorities, correspondents say.

Mr Satterfield - who is a former US ambassador to Lebanon - has declined to tell reporters details of his itinerary in the country.

Timetable 'imminent'

Egypt's President Hosni Mubarak says Syria will announce "within a week" its timetable for the withdrawal of the remainder of its forces from Lebanon.

Anti-US demonstration in Beirut
Loyalist Lebanese see the opposition as tools of US policy
He made the statement in comments to French television during a visit to Paris.

The UN envoy to the region has previously said a timeline for full withdrawal will be set by 7 April.

Under intense international pressure and huge opposition protests, Syria has already moved its troops and intelligence agents back to Lebanon's eastern Bekaa valley or into Syria.

About 10,000 troops remain, down from an estimated 14,000 deployed throughout Lebanon before Hariri's death.

World leaders have voiced fears about the possibility of renewed communal violence in Lebanon after two bomb blasts in Christian quarters.

President Jacques Chirac of France suggested Wednesday's explosion - which killed three foreign labourers at a Kaslik shopping centre - may have been caused by pro-Syrian elements trying to show the pullback is a mistake.

"I wish that those who play this little game will be quickly exposed and condemned," he said at a press conference in Brussels.

Lebanon's pro-Syrian President Emile Lahoud appealed again for dialogue to end the standoff that has prevented the formation of a new government.

"We must work together to thwart plans to destabilise Lebanon," he said on Wednesday.
Source: www.bbc.com
http://news.bbc.co.uk/2/hi/middle_east/4379147.stm
Support Caprivi Freedom
Fill out the form below to become a member of this site and receive our regular newsletter.