News and Information
---
Blair accused of EU 'surrender'
March 24, 2005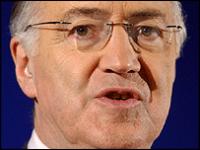 Michael Howard
Mr Howard accused Mr Blair of summit 'failure'
Tory leader Michael Howard has said Tony Blair cannot be trusted to defend the UK's £3bn EU rebate.

French president Jacques Chirac has said the rebate, secured in 1984, was no longer justified. The UK government says it will veto any bid to reduce it.

But Mr Howard accused Mr Blair of caving in to France over economic policy at this week's EU summit.

UK-backed moves for the EU to adopt a US-style "free market" were put on hold following French protests.

In a statement to MPs on Thursday, Mr Blair insisted the liberalisation of the market for services across the EU would return to the agenda at a later date.

But Mr Howard said the concession to French concerns illustrated Mr Blair's "complete failure on Europe".

French interests

The Tory leader said the prime minister had agreed to re-word the services directive to make it more palatable for voters before the French referendum on the EU constitution on 29 May.

"You put the interests of the French president before those of British workers and consumers so how can we trust your promises on the rebate?," he asked Mr Blair.

"Why on earth is the British rebate being discussed when the justification for it is as strong now as it was when it was won?

"Why isn't the reform agenda being given pride of place?"


It is true it was mentioned by the French president - it always is - and it gets the same response from me, which is 'no'
Tony Blair

The government says the rebate, secured by former Conservative prime minister Margaret Thatcher, was still justified because less EU farm money came to the UK.

And it says even with the rebate, the UK pays two and a half times more than France contributes to the EU budget.

Mr Blair told Mr Howard the rebate had not been mentioned at the council meeting.

"It is true it was mentioned by the French president - it always is - and it gets the same response from me, which is 'no', and that is what will continue to happen," he said.

The prime minister also told MPs he was confident his proposals to liberalise Europe's service sector would be adopted.

But he said Britain must not be reduced to being a spectator in Europe.

"There is a very clear choice and that is between going into these debates...and fighting Britain's corner or opting out, as the last Conservative government did, leaving Britain defenceless, leaving it near the exit door, and betraying the true national interests of Britain," he said.
Source: www.bbc.com
http://news.bbc.co.uk/2/hi/uk_news/politics/4379669.stm
Support Caprivi Freedom
Fill out the form below to become a member of this site and receive our regular newsletter.