News and Information
---
Mugabe 'made ex-spin doctor cry'
March 24, 2005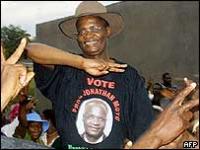 Jonathan Moyo
Mugabe was speaking outside Moyo's beer shop
Zimbabwe's ex-Information Minister Jonathan Moyo cried when asked if he was plotting a coup, President Robert Mugabe has told a campaign rally.

Last month Mr Moyo decided to stand as an independent in the 31 March polls, after being sacked by the president.

"We asked him whether he wanted to stage a coup... and tears started flowing down his cheeks," Mr Mugabe said in Mr Moyo's home district.

Mr Moyo was Mr Mugabe's spokesman and the architect of tough media laws.

'Greater enemies'

He was disciplined by the ruling Zanu-PF party in December and dropped from the top policy body after campaigning against Mr Mugabe's choice for vice-president, Joyce Mujuru.

President Robert Mugabe
No, Jonathan, you are clever, but you lack wisdom
President Robert Mugabe

Mr Moyo's rise and fall
Q&A: Does the election matter?
At the campaign rally in the western area of Tsholotsho, attended by some 3,000 supporters, the president said Mr Moyo had met an army commander and hinted he may have been plotting a coup.

"He did terrible things, going to the army commander," Mr Mugabe told the crowd, gathered in a dusty stadium outside a beer shop owned by Mr Moyo, reports the AFP news agency.

Mr Moyo has not commented on the charges but has denied previous reports that he was trying to oust Mr Mugabe.

A professor of political studies, he was once a harsh critic of Mr Mugabe before being named information minister.

The media laws he drafted have seen the expulsion of foreign correspondents, the closure of the most popular daily paper and the threat of prison terms for journalists who work without a state licence.

"No, Jonathan, you are clever, but you lack wisdom. You are educated, but you do not have wisdom," Mr Mugabe said.

Mr Mugabe warned that Tsholotsho would head into "oblivion" if it voted for Mr Moyo.

The seat is currently held by the opposition Movement for Democratic Change.
Source: www.bbc.com
http://news.bbc.co.uk/2/hi/africa/4378357.stm
Support Caprivi Freedom
Fill out the form below to become a member of this site and receive our regular newsletter.