News and Information
---
Rice lauds India-Pakistan peace
March 16, 2005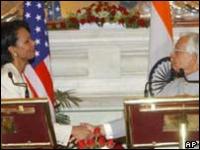 Ms Rice and Mr Singh
Ms Rice and Mr Singh discussed "enhanced defence" ties
US Secretary of State Condoleezza Rice has praised progress in the peace process between India and Pakistan.

After meeting Indian Foreign Minister Natwar Singh on the opening leg of her Asian tour, Ms Rice said the US would support the peace process.

Ms Rice also met Indian premier Manmohan Singh on Wednesday and has now arrived in Pakistan for talks with President Pervez Musharraf.

Ms Rice's eight-day trip is taking her to six countries in Asia.

This is Ms Rice's first visit to the region since she became the top US diplomat in January.

Tensions

"We very much admire what the Indian prime minister and President Pervez Musharraf have been able to continue, given the change in government here in India," Ms Rice told a joint news conference with Natwar Singh.


Condoleezza Rice
I am going to make a promise to [Mr Singh] right now, and that is that I will try to understand cricket
Condoleezza Rice

Tough talks loom for Rice
Musharraf to watch Delhi match

"It is heartening that dialogue has continued and indeed accelerated and we want to be supportive in anyway that we can."

The foreign minister said he had told Ms Rice that the peace process was "progressing satisfactorily".

The BBC's Jonathan Beale in Delhi says that despite the obvious harmony between the US and India, there are still tensions.

Delhi is worried about the possibility of the US selling F-16 jet fighters to Pakistan, though no decision has yet been made.

Washington is concerned about plans for the construction of a gas pipeline from Iran to India.

Ms Rice said India and the US would look to "enhance defence co-operation".

Natwar Singh said they had discussed "every issue" on defence supplies, "including F16s".

Ms Rice said she had a "wonderful" meeting with Sonia Gandhi

Both said no announcements were going to be made on arms sales.

On the gas pipeline, Ms Rice said: "We have our concerns, but we wish to look at it as a broader problem.

"We do need to look at the broader question of India meeting its energy needs. We support a broad energy dialogue should be started with India."

However, Natwar Singh reiterated India's support for the gas project.

"We have no problem of any kind with Iran," he said.

In Pakistan, Ms Rice is to meet Gen Musharraf and Prime Minister Shaukat Aziz on Wednesday evening.

She will then fly to the Afghan capital, Kabul, on Thursday before returning for further talks in Islamabad the same day.

Gandhi meeting

Ms Rice and Natwar Singh also touched on Nepal, saying they agreed to work together to help restore democracy.

Ms Rice said the Nepali government needed get back on a democratic path.

"That simply must happen... it needs to happen very, very soon," she said.

Earlier, Ms Rice had a 30-minute meeting with Congress party president Sonia Gandhi.

During President George W Bush's first term, there was a significant transformation in India-US relations and the US was perceived as a strategic partner.

India and the US have overseen increased military ties, holding joint exercises and expanded civilian, space and hi-tech contacts.

Ms Rice's eight-day trip to South and East Asia will also take her to Pakistan, Afghanistan, Japan, Korea and China.
Source: www.bbc.com
http://news.bbc.co.uk/2/hi/south_asia/4349589.stm
Support Caprivi Freedom
Fill out the form below to become a member of this site and receive our regular newsletter.